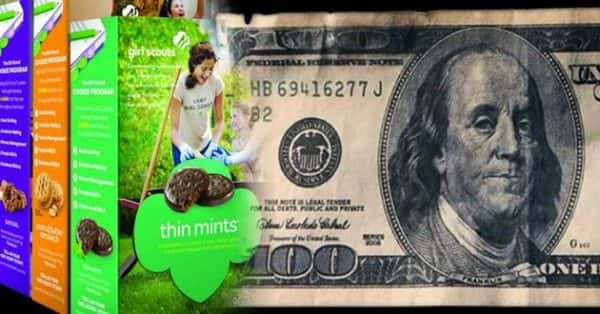 Image: Courtesy West Plains Daily Quill.
A Howell County man, 49-year-old Daniel S. Keller of Caulfield, has been charged in connection with a counterfeit $100 bill used to purchase Girl Scout cookies from a local troop selling them outside the West Plains Walmart.
The West Plains Daily Quill reports Keller is charged with felony forgery. Court documents indicate a warrant has been issued for his arrest, with bail set at $2,000.
On Feb. 22nd, the Missouri Heartland Troop 71883 leader turned over a suspicious $100 bill to a West Plains bank used for the purchase of cookies. The bill turned out to be fake.
The troop leader estimated Keller allegedly bought two to four boxes of cookies and left with $80 to $90 in change, after asking if the troop would accept a $100 bill. He then dropped a badly worn bill on the table for payment.
A West Plains police detective says in documents submitted to prosecutors store surveillance footage was reviewed and eventually led to Keller being named as a suspect. In a police interview about the incident, Keller reportedly admitted he was the man shown in the surveillance video. He said he bought six boxes of cookies and received $70 in change.
He also allegedly admitted he knew the bill was fake, and he received it from an acquaintance who bought it from an online shopping website.
The troop leader says the organization was reimbursed by the Girl Scout organization so they troop didn't absorb the loss, however, the money still came from Girl Scout funds.
WebReadyTM Powered by WireReady® NSI