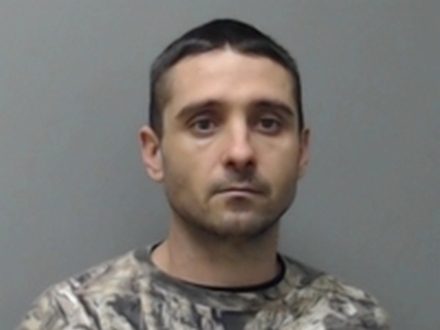 Mitchell Smithey who has been on the run since early November last year was jailed Tuesday and made a much delayed appearance in Baxter County Circuit Court Thursday.The 37-year-old Smithey, whose last known address was in Gassville, first ran into trouble with the law in mid-October last year when he allegedly assaulted his wife using an iron skillet, razor blade and laundry detergent as weapons.
He became a fugitive in early November last year when a failure to appear warrant was issued for his arrest, after he was a no-show for a circuit court session.
According to the Baxter County Sheriff's Office, Smithey was arrested in Fayetteville within the last two days and transported to Mountain Home.
Fort Smith-based Exit Bail Bond Company wrote his $10,000 bond. The court had given the company a May 9th deadline to produce Smithey or forfeit the bond.
Smithey was also involved in an altercation with a Lakeview Police officer and a Baxter County deputy sheriff March 29th.
According to an incident report, Smithey's confrontation involving the deputy and Lakeview Police officer began when the lawmen went to check on a suspicious person in the shower house at the Lakeview Park Campground. They reported encountering a male, later identified as Smithey, in a shower stall.
According to the report, Smithey came out of the stall when ordered to do so. When the deputy attempted to cuff Smithey, he is alleged to have run toward the Lakeview officer, apparently running into him when fleeing the shower house. Smithey disappeared into nearby woods.
The Lakeview officer was reported to have been slightly injured during the encounter.
A female at the scene confirmed the male in the shower house was Smithey and told police he was her brother.
New charges are being prepared stemming from the incident in the park. They could include resisting arrest, obstructing governmental operations and theft by receiving, all misdemeanors. The theft by receiving charge is being filed since Smithey had possession of another person's driver's license, which had been reported stolen. He was alleged to have presented the stolen document claiming it was his during the incident at the park.
The alleged assault on his wife occurred in mid-October last year. According to the probable cause affidavit, a Gassville Police Department officer met the wife at a convenience store in the early morning hours of Oct. 10th. She had called for help after being allowed to leave her home to get her husband cigarettes.
She was reported to have had extensive visible injuries. Her face was swollen; she had a large lump on her forehead, as well as a bloody spot on her hand and swelling in her arms.
According to the victim, Smithey had been beating her throughout the night and had threatened to take her life. She said her husband had hit her with an iron skillet, threatened to disfigure her face with a razor blade, pinned her on the floor and poured an entire bottle of laundry detergent on her, leaving her gasping for air.
She also said Smithey had gotten her in a headlock at one point and tried to choke her. He also attempted to cover her nose and mouth with both of his hands to stop her from breathing.
The woman made her temporary escape from the house when she asked Smithey what it would take for him to stop beating her, and he told her to get him cigarettes. She said he would use the time she was away on the errand to determine exactly what he would do to her when she returned.
The victim returned to her home along North School Place with the Gassville officer and a Baxter County deputy sheriff. Smithey is reported to have jumped out a rear bedroom window and fled.
Police returned to the house Oct. 16th and arrested Smithey. According to the probable cause affidavit, police discovered Smithey had cut a hole in the bathroom floor leading to a crawl space. When the officers arrived, Smithey scurried through the hole and refused to come out.
He surrendered after being warned the Mountain Home police dog was about to be used to flush him from under the house. He exited his hiding place and was arrested.
After the incident, the wife first received an order of protection ordering Smithey to stay away from her and the couple's children. She filed for divorce in November last year.
A number of charges were filed against Smithey stemming from the domestic altercation, including terroristic threatening, domestic battering, fleeing on foot and several counts of endangering the welfare of a minor.
On Thursday, Circuit Judge John Putman ordered Smithey to reappear April 25th.
WebReadyTM Powered by WireReady® NSI