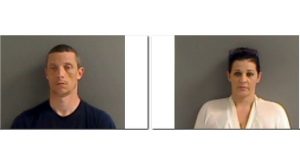 A couple from Oklahoma traveling in a vehicle reported stolen in that state was detained at the Walmart in Flippin April 6th, after allegedly leaving the store pushing a cart of items past the last point of purchase without making payment.
According to the probable cause affidavit filed Thursday, officers from Arkansas State Police, the Flippin Police Department and the Marion County Sheriff's Office responded to a call from an asset protection associate at the store.
The associate advised a male and female, later identified as 36-year-old Levi Masters and 36-year-old Danielle Sawyer, both of New Castle, Okla., had reportedly placed items inside a toolbox and were making their way to the garden center.
When officers pulled into the store's parking lot, the associate advised them of the row number the couple's vehicle was in, with it backing away in a manner so she could not obtain the license plate number.
Law enforcement was able to prevent the vehicle from exiting the parking lot. When the couple was directed to step out of the vehicle, Masters said there was a pellet gun on the floor board. Officers reported seeing a black "pistol like weapon" in the vehicle.
The couple returned to the store with law enforcement, where the associate had a shopping cart of items she reported the couple had pushed past the last point of purchase.
She said Masters had placed a store bag over the vehicle's license plate before they attempted to leave the parking lot. A check of the license plate number indicated the vehicle was reported stolen in New Castle.
An inventory of the vehicle revealed a second black pellet gun near the driver's side.
Masters and Sawyer face felony counts of theft by receiving and misdemeanor charges of theft of property. Their bonds were set at $5,000.
WebReadyTM Powered by WireReady® NSI