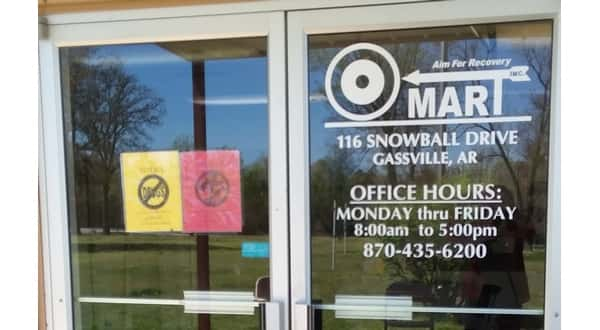 Photo: Front door of OMART is the only means of identifying the facility from the street.
In May 2018, an unannounced compliance check at OMART in Gassville by Arkansas Community Correction officers resulted in nine residents temporarily losing their freedom, including seven packed off to the Baxter County jail. A number of infractions were cited, including removing a GPS tracking unit and failing drug and alcohol tests.
The OMART residents were parolees assigned to the transitional housing unit by ACC, the state agency charged with their oversight.
Formed more than 30 years as an avenue for local courts to direct those needing treatment for drug and alcohol problems, OMART began a transition about 10 years ago providing beds for parolees from across the state.
As previously reported, it then began operating exclusively as a transitional housing unit in 2017. Its growth impacted the local law enforcement community, as Karen Hopper reports in the final installment of a series.

Listen:


In checking court records and jail logs, a number of OMART residents completing their time and remaining in this area have been newly arrested for a variety of crimes.
Whether as OMART residents or those who have transitioned into society, Baxter County Sheriff John Montgomery says the local law enforcement community has been impacted.

Listen:


Sheriff Montgomery adds law-abiding individuals are encouraged to relocate here.
He says the Baxter County jail has been at capacity for some time, leading to the planned expansion, however accommodations will be made for those violating the law, including OMART parolees failing drug and alcohol tests.

Listen:


While the parolees created their own issues for law enforcement, more than once OMART was threatened with license revocation for non-compliance with ACC policy.
Inadequate staffing levels were cited as making the transportation of OMART residents difficult. During an inspection in mid-May last year, it was noted residents had missed scheduled appointments, both medical and parole-related, as well as not being able to get to their places of employment.
At one time, it was noted GED classes were not being offered at OMART and residents were also unable to attend classes outside the facility "due to the lack of staff availability to provide transportation." When an OMART employee was questioned by the ACC inspectors about the transportation problem, she is reported to have said the facility basically left it "up to residents to find their way."
In late 2017, ACC stopped sending parolees to OMART until various policy violations were corrected. In one ACC memo, it was suggested the agency would have to keep a close eye on OMART because of the unacceptable frequency of the infractions. The ban on sending new parolees to Gassville was lifted in early 2018.
During one inspection, the kitchen and food storage areas were described as "unkempt," and outdated and rotten food was located in the dining area.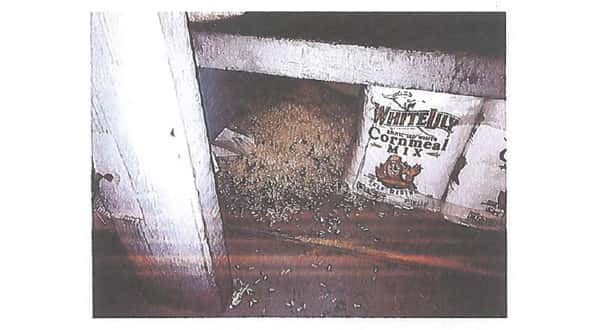 Photo: One of numerous photos from ACC inspections.
During other inspections, OMART was cited for having one staff person on duty to supervise 32 residents -- seven more than allowed by ACC policy.
In addition, drug tests were not being done according to agency requirements. The inspector wrote offenders were being given a cup and told to bring it back when a urine sample was obtained, making it possible for residents to tamper with the sample.
During an ACC walk-through in June last year, three knives were found in the room of a resident, who said he used them in his employment. After the knives were found and confiscated, an OMART night shift worker was questioned about the facility's search procedures. The ACC team was told the employee did not search the residents' persons, nor did she search their pockets -- only asking they remove pocketed items in front of her.
The ongoing issues culminated in a March 22nd inspection. Issues noted then included cleanliness and while drug testing had been completed, it was not documented.
Less than a week later, ACC moved to pull OMART's license, sending the parolees to other locations was initiated within hours and on April 3rd, the Gassville City Council repealed OMART's special use permit.
WebReadyTM Powered by WireReady® NSI