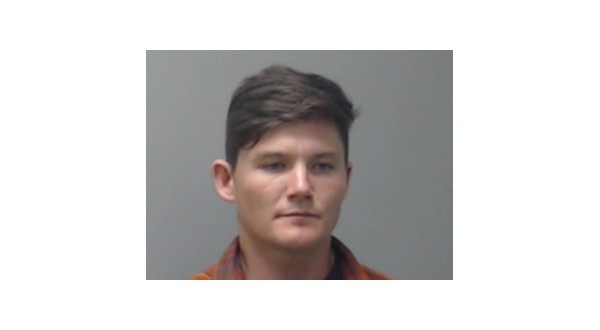 A Lakeview man who pled guilty to breaking into a house in 2013 and assaulting the resident and with new charges filed against him earlier this year is now facing a new charge of theft by receiving.
Online court records indicate a warrant for 27-year-old Jacob Caple was served Friday, after the owner of items reported stolen in December spotted the suspect wearing what appeared to be his camouflage pullover in a Facebook picture.
In mid-December, a Baxter County Sheriff's deputy responded to a call on County Road 27, where a resident reported the window of his truck had been broken and a large rock was inside the vehicle. Hunting clothes, a checkbook and a shotgun were reported missing.
After the victim spotted Caple in the Facebook photo, the Lakeview man was brought in for questioning and denied the allegations, including the theft of a welder in which he was charged earlier this year.
The camo pullover was seized and compared to a picture of the victim wearing what appeared to be the same garment. Pictures of Caple and the victim wearing the camo pullover were sent to a design engineer at Mossy Oak in Olive Branch, Miss. The engineer confirmed the seized pullover was the same garment the victim was wearing.
In early January, Caple called a Baxter County Sheriff's investigator and advised where the missing shotgun wrapped in camo pants could be found on the ground behind a house. The investigator and a second officer were close enough to the location to see Caple leave the residence.
The officers located the missing gun in the location where Caple advised it could be found. However, he claimed two other individuals had hidden the weapon under the deck of the house. However, the barrel had been sawed off, making it illegal to possess.
Caple has been charged with a felony count of theft by receiving, with his bond set at $3,500.
Earlier this year, Caple's attorney Ben Burnett, entered a not guilty plea for his client in Baxter County Circuit Court.
Investigators allege Caple stole a welder from a barn and later pawned it in Springfield for $100.
An investigator in the Baxter County Sheriff's Office monitored Leads-On-Line, a pawn shop reporting system, until he saw where Caple had pawned a welder in Springfield matching the description of the one stolen.
When Caple came to the sheriff's office for an interview, he gave investigators a number of stories as to how he came into possession of the welder, but none of his accounts checked out.
Caple did spend time in prison on charges stemming from the 2013 home invasion.
According to court records, Caple and a co-defendant, Christian Blake Sisk, kicked down the door of a residence along Old Military Road. The pair went to the bedroom of then 18-year-old Luke Douglas and pulled the sleeping man out of his bed and beat him. Sisk held Douglas down while Caple administered the beating.
Douglas sustained serious physical injuries as a result of the beating, including a traumatic brain injury.
Caple and Douglas had known each other for a number of years and had been teammates on the Mountain Home High School wrestling team at one point.
There was no clear cut reason for the attack spelled out in court records.
During various court appearances on the earlier charges, Caple admitted he had become addicted to prescription pain medication, first given to him when he left the U.S. Marine Corps on a medical discharge.
There was no plea agreement in Caple's case. He left his sentencing up to the court. When he handed down Caple's sentence in May 2015, Circuit Judge Gordon Webb said he appreciated the actions Caple had taken to learn a trade and free himself of an addiction to pain medications.
However, Judge Webb told Caple he did not feel justice would be served if he did not spend some time in prison for "what was a pretty ghastly criminal act. There is no excuse for the kind of brutality inflicted on the victim in this case." Judge Webb sentenced Caple to 10 years in prison, with three to serve and seven suspended.
WebReadyTM Powered by WireReady® NSI