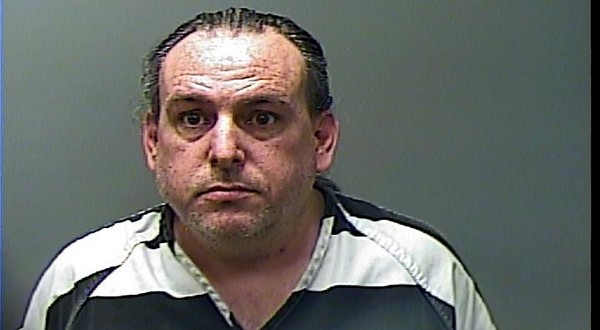 A man accused of threatening to execute Baxter County Sheriff John Montgomery, former sheriff Benny Magness and a local district judge will undergo a mental examination.
Forty-six-year-old Michael Thomas Curtis of Clarksville appeared in Baxter County Circuit Court Thursday by way of a video hookup from the county jail. As with prior appearances, he had barely settled into his chair when he launched into a non-stop verbal tirade — including a demand he be immediately released from the county jail.
Curtis has proclaimed himself a king, undercover Supreme Court justice, investigator looking into the health system in Arkansas and an executioner among many other things.
He announced during his appearance Thursday that in his role as an undercover Supreme Court justice, he has dismissed all of the charges filed against him on Feb. 3rd.
In addition, he threatened if Judge Gordon Webb did not release him from jail immediately, he would fire him. He said as an undercover Supreme Court justice, he was Judge Webb's "boss" and could not only remove him from office but jail him as well.
In a new twist to Curtis' rants, he would begin and end sentences with the word "gavel." He told Judge Webb, for example, "Gavel. I outrank you. Gavel."
At one point Curtis said, "Gavel. Court's adjourned. Gavel."
Judge Webb made several unsuccessful attempts to interrupt Curtis' torrent of words. He finally gave up and had Curtis removed.
Once the court has ordered a mental exam for Curtis, all activity in his case will cease, until a report on his exam is received. If he is found not fit to proceed in the case against him, he will be sent for treatment with the aim of restoring him to a point where he can proceed, if that is possible.
According to the probable cause affidavit, Curtis began sending a flurry of allegedly threatening emails to the Baxter County Sheriff's Office, after he was served with temporary orders of protection. Those orders were obtained by Curtis' ex-wife and estranged daughter, who is in college in another part of the state.
Curtis told the court he had also dismissed the orders in place to keep him away from his ex-wife and daughter. He said they were "fraudulently made up."
He was served with papers related to the orders in Clarksville Oct. 24th last year.
Most of Curtis' communications directed to the Baxter County officials have been described as harassing in nature and incoherent in content. However, some of the messages do contain allegedly direct threats against those officials, according to court records.
In one communication, Curtis was reported to have said he had given orders and directives to President Donald Trump to have the executions of the local official carried out.
An arrest warrant for Curtis was obtained Dec. 11th last year, and he was booked into the Baxter County jail the next day.
The United States Secret Service was provided information on the case and assisted in the investigation.
WebReadyTM Powered by WireReady® NSI