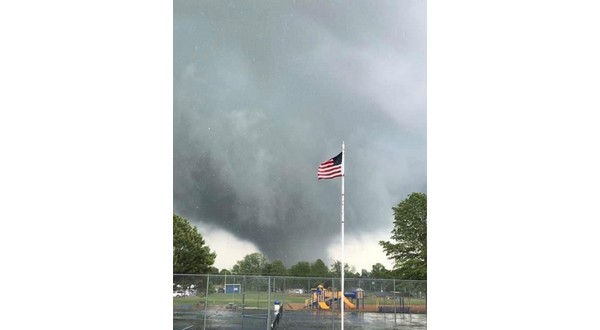 Photo: Tornado at Bergman Tuesday. Photo courtesy of Marianna Pyeatt.
A tornado was confirmed Tuesday afternoon in Boone County and several funnel clouds were spotted in Ozark County, but no injuries have been reported. Heavy rain fell overnight throughout most of Northern Arkansas and Southern Missouri leading to several flash flood warnings.
The tornado in northeast Boone County has forced the cancellation of classes at the Lead Hill School District Wednesday and Thursday. According to the National Weather Service, the tornado was first confirmed at approximately 3:15 near Willis, nearly 11 miles northeast of Harrison, and it moved through Bergman and Lead Hill. Lead Hill School District officials confirmed on their Facebook page the campus has damage caused by the storm forcing the two-day closure. Lead Hill will use two of its AMI days granted by the state of Arkansas.
In Ozark County, some trees were blown down but no other damage has been reported. Around 4 Tuesday afternoon, while a tornado warning was in effect and a funnel had been spotted, a bus from the Lutie School District with several students on board was forced to pull over and the people on board took shelter in a house.
Heavy rain moved in late Tuesday night. Here at the KTLO, Classic Hits and The Boot Studios, the official weather reporting station in Mountain Home for the National Weather Service, we have received 2.27 inches of rain.
One of the largest reported rain total is in Ava where 6.91 inches of rain has fallen since Tuesday afternoon. A few roads in Douglas County remain closed due to high water.
There is a slight chance of more severe weather in the area Wednesday afternoon and evening. Thomas Jones with the National Weather Service in North Little Rock says the weather will stay busy for the next few days.

Listen:


More rain, some of it heavy, is in the forecast through Friday night according to Jones.

Listen:


A flash flood watch is in effect for North Central Arkansas and Southern Missouri through Thursday morning. Jones says between 1 and 3 more inches of rain could fall by Saturday.
WebReadyTM Powered by WireReady® NSI