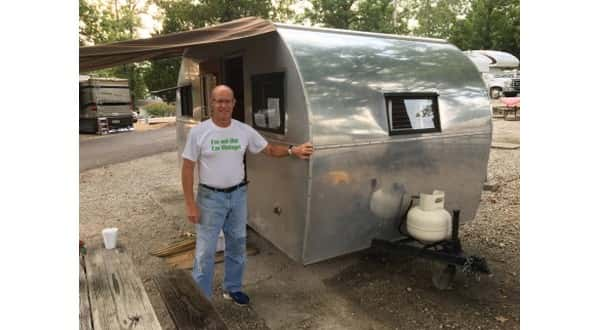 Photo: When Mike Breton bought this 1946 Angelus trailer, it had been last licensed in 1947 – and that license plate was still attached. He has since sold it to a collector in Little Rock, replacing it with a "vintage-inspired" trailer with a few modern conveniences that make it more appealing to his wife, Karen.  Photo courtesy of Ozark County Times.
Theodosia resident and former Mountain Home school administrator Mike Breton is helping organize a vintage trailer rally this weekend at Bull Shoals Dam Site Park in Bull Shoals. The event is the third annual gathering of the vintage trailer collectors, most of them members of the Tin Can Tourists group, to be held in Bull Shoals. The vintage trailers are generally considered to have been built anytime before 1975.
The public is welcome to come visit the participating trailers from noon until 2 Saturday to see the owners' restoration and redesign efforts. The park is located at 1616 Bull Shoals Dam Site Blvd. above the dam in Bull Shoals.
Breton tells the Ozark County Times the collectible and practical trailers, introduced shortly after World War II, have gained wide popularity in recent years after a decline in the 1950s and '60s.
He says they were introduced after the war, when "aluminum was very available since they were no longer building bombers." Breton says, for example, J. Paul Getty stopped making bombers and started making these trailers, called Spartans.
Breton says Getty's trailers were a little bigger than many of the small trailers, which "became a deal" in the post-war years "when a lot of vets were coming home, and there was a housing shortage. The Spartans and the Airstream trailers are the two that use World War II technology, which is to say aluminum bracing rather than wooden. That's why those models have survived better than those built on wooden frames.
But many may say the wooden-frame models have more character, given their shapes and nicknames. "That's the fun of it," Breton says. "Some look like little canned hams. There are some that look like a toaster. The bigger ones, you call bread boxes. What's neat is that they're usually discovered in not-the-best shape, and you get to redo the colors and finishes, the interiors."
Some of the trailers were just 11 feet long, he says. "They had a bed and a little counter with a sink and cabinets. They're small, but you'd be surprised what they can hold. In the model called a Scottie, you walk in and step down, so the floor is lower than the entrance and the space is taller inside."
Women seem to be especially fond of the vintage trailers. Breton says, "Sometimes you see the ladies park them in the backyard as a 'she shed.'"
He says, there's one group of women who like to fly fish, they call themselves Sisters on the Fly. There are 400 to 500 of them, and they go out on their own in their vintage trailers and camp and fish. Some have painted their trailers like a brown trout, and some have cowgirls painted on them.
Breton said another appealing part of the Tin Can Tourist phenomenon is that "people use them and camp in them. If you go to a big car show, many of those vintage cars come in on a trailer. People don't really drive them. But these things, people don't put their trailers on trailers! They pull the trailer, and when they get where they're going, they stop and camp."
Until recently Breton was the proud owner of a 1946 Angelus trailer, "last licensed in 1947 and kept inside" before he bought it. He enjoyed it, but his wife, Karen, wasn't keen on its lack of modern conveniences. "She would come and have lunch with me but wouldn't spend the night," he said.
So he sold the classic Angelus to a collector in Little Rock who owns 40 vintage trailers and plans to open a museum, with Breton's former Angelus in the lobby.
Now Breton owns a "vintage-inspired trailer." It's a "modern trailer that looks like an old one on the outside but inside has a shower and a microwave," he said.
The new trailer is more appealing to Karen, he said. "Recently we went on a two-night camping trip, and she took two showers," he said, laughing.
For more information about this weekend's Tin Can Tourists gathering, contact Breton at 870-405-5941.
WebReadyTM Powered by WireReady® NSI