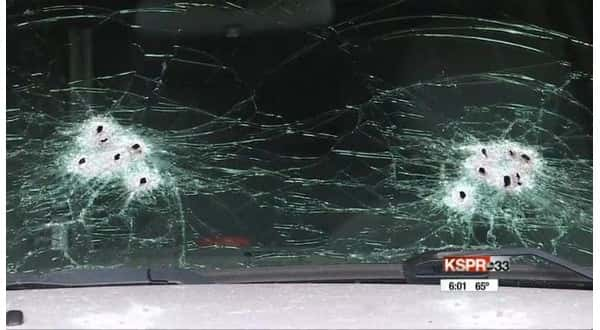 Photo: Courtesy KYTV/KSPR.
The body of man killed following a shootout with law enforcement in Douglas County has been identified. According to KYTV/KSPR, Douglas County Sheriff Chris Degase says 42-year-old Barry Wedge of Cabool died of a self-inflicted gunshot wound following a police chase ending in Vanzant.
Cabool police officers attempted to stop a suspected impaired driver Friday night around midnight, but he began shooting at the authorities. The suspect led multiple agencies on a pursuit that reached speeds of 50 miles per hour, and Sheriff Degase says along the way, the subject would stop his car sideways in the road and fire more rounds at the officers.
Sheriff Degase says the suspect likely noticed the spike strips set up near the intersection of Missouri Highways 76 and 95 and turned off early as he drove through a gate into a field. He reportedly began driving in circles in the field and fired more rounds at a Douglas County deputy who returned fire through the windshield of his truck. The suspect then crashed his truck in a ravine and allegedly fired more shots at the deputy.
Following the shootout, the suspect's body was taken in for an autopsy. Sheriff Degase says the body was identified as Wedge, and the autopsy results show he was struck by a single gunshot to his head. The results also show he was never struck by return fire from authorities.
Wedge was recently interviewed by the Missouri State Highway Patrol about a homicide investigation from North Dakota. Sheriff Degase says no intoxicants were located in Wedge's vehicle, but he was going to be pulled over because he was driving erratically. Wedge reportedly fired over 30 rounds at the officers during the incident.
A Douglas County deputy and two Cabool police officers are on standard paid-administration leave as the investigation continues. The deputy suffered some welts on his legs from shotgun pellets, but they did not penetrate the skin.
WebReadyTM Powered by WireReady® NSI