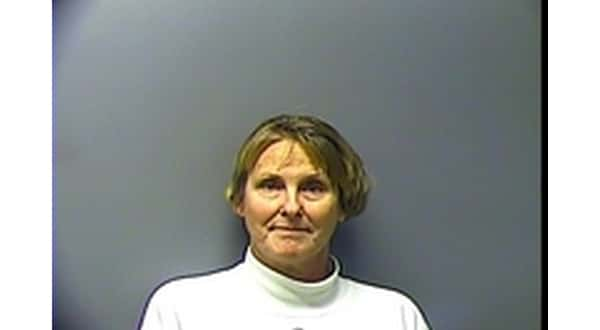 A Mountain Home woman charged with harassing neighbors and making death threats to a number of people, including a mother and son, made an appearance in Baxter County Circuit Court Thursday.The attorney representing 55-year-old Ellen Griesi has filed motions in her case, including one asking 14th Judicial District Prosecutor David Ethredge to step aside from the case. Mountain Home attorney John Crain told the court Ethredge represented Griesi in the past, with the last representation coming in 2014.Ethredge told the court he saw no conflict in his representation of Griesi in four cases between 2005 to 2014, given he had not represented her for more than five years. He said he had no plans to recuse in Griesi's current case.
The defense also filed a motion asking Griesi be given permission to remove the ankle monitor ordered by the court to make it easier for her to undergo various upcoming medical treatments. Circuit Judge Gordon Webb said Crain needed to prepared a letter brief clarifying the reasons for the request to have the ankle monitor removed. He said the court would review the brief, before making a final decision on the request.
Judge Webb said he was not inclined to issue a blanket order to allow Griesi to remove the ankle monitor. Crain said doctors treating Griesi had said they found it difficult to undertake certain procedures on the Mountain Home woman with the monitor attached to her lower leg.
Griesi, who had her arm in a sling during her court appearance Thursday, said she was scheduled to undergo significant medical procedures, including a knee replacement, as well as work on her shoulder and thumb in the near future.
She told the court she was making the request because her doctors had told her they needed to have the monitor removed to facilitate the procedures.
She said she wanted to make clear the request was coming from her doctors. She told Judge Webb as far as she was concerned, she felt "safer" when wearing the monitor. She said she had been attacked twice in her residence, but provided no details on the incidents.
Judge Webb said the information presented to him did not incite clear-cut reasons why there should be a carte blanch removal of the monitor. He said the defense should indicate why there should be a full time removal instead of taking the monitor off for a specific time period when medical procedures would be further complicated by the presence of the tracking device.
According to the probable cause affidavit, the Mountain Home woman was arrested after police were called by a neighbor of Griesi and her husband, Joseph, in mid-October last year to report a series of what were described as harassing telephone calls he received from Griesi.
The neighbor told police the harassment began shortly after he had called 911 to report a disturbance at the Griesi residence. He told police the next day, Ellen Griesi called him wanting to know who had made the report to 911. The victim said he told Griesi not to contact him again, but she allegedly began continuously harassing the victim, leaving threatening voice mails, which he provided to police.
In late October last year, a female victim reported a threat she alleges Griesi made against her and her son. The woman said she arrived home and noticed a vehicle on the edge of her driveway. The victim said when she stepped out of her vehicle. Griesi began yelling at her. The victim said Griesi threatened to kill her the next day. "I'm going to shoot you in the face and kill your son," Griesi is alleged to have shouted.
On Oct. 30 last year, MHPD officers went to Griesi's residence to arrest her on charges stemming from the reported harassment and threats. When officers first made contact with her, she ignored commands and attempted to flee into her residence. She was subdued and taken into custody. She has entered a plea of not guilty to charges of felony terroristic threatening, making harassing communications, resisting arrest and fleeing on foot.
According to court records, Griesi and her husband filed almost 20 petitions for orders of protection against family members and others in 2018 and the first part of this year. Many of the petitions contain the same 12-page, handwritten affidavit outlining the reasons for seeking the order.
In the lengthy affidavit, Griesi makes a significant number of accusations against a number people — even alleging the Notary Public whose stamp appears on some court papers is out to get her.
The petitions seeking the orders of protection have all been dismissed. Twelve were dismissed at the request of Griesi or her husband, three for failure to prosecute and three due to insufficient evidence.
Griesi was once an instructor at Arkansas State University-Mountain Home, but was let go and, she contends, banned from attending the school as a student. In one of the now dismissed petitions seeking orders of protection, Griesi contends several people conspired to ruin her good name and to have her dismissed from her job.
A trial for Griesi is now set for June 24 with a final reappearance before trial scheduled for June 20.
WebReadyTM Powered by WireReady® NSI