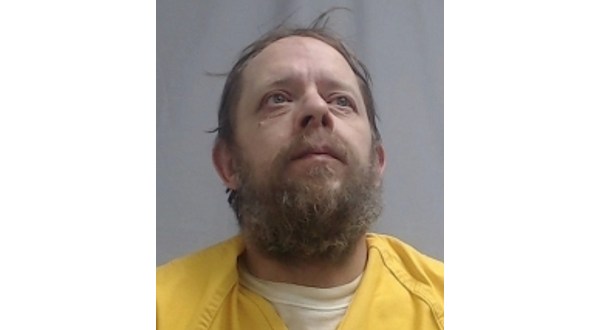 A Lakeview man charged with taking shots at imaginary people he believed were out to kill him and hitting a neighbor's house in the process, appeared in Baxter County Circuit Court Thursday. It was his first appearance since last year.Failure to appear warrants were issued for 46-year-old David Tiskus in October and December last year, as well as February and March of this year.
Tiskus has made appearances in other courts, however. On May 10, a jury in Independence County found him guilty on a number of charges, including commercial burglary, possession of methamphetamine and breaking or entering. According to 16th Judicial District Prosecutor Eric Hance, Tiskus received a sentence of 18 years in the state prison system.
He was charged with breaking into two Batesville businesses in November 2017. At the time, Tiskus was also found to have methamphetamine on his person.
In Baxter County, Tiskus faces aggravated assault and criminal mischief charges stemming from a shooting incident early last year.
During his appearance on a video hookup from the Baxter County jail Thursday, it was apparent Tiskus did not fully grasp the fact he faced the lengthy prison sentence stemming from his conviction in Independence County. At one point, he asked Judge John Putman if he could be released on his own recognizance. He said he wanted to act as his own attorney and get the "minor matters" in Baxter County behind him.
Aggravated assault is a high-level felony charge and not, as Tiskus described it, a "minor matter."
Tiskus' problems with the law in Baxter County began when deputies responded to a residence along County Road 276 April 27 last year. A neighbor reported shots had been fired from Tiskus' home, and a bullet had hit the neighbor's residence. The victim told deputies before the shooting started, Tiskus had driven down the road in his van at a high rate of speed before pulling into his driveway.
The neighbor said he then heard Tiskus and a woman yelling at each other, followed by the sound of gunshots. He said a bullet hit his house in the area of his daughter's bedroom. Deputies noted in their report if the bullet had penetrated the wall, its path would have taken it about 4 inches above the bed on which the girl was sleeping.
Investigators made contact with Tiskus in a back bedroom of his home set up as an office. Tiskus warned the lawmen he could see a man standing between him and the deputies. Tiskus said the man was there to kill him. The potential killer was invisible to everyone but Tiskus. However, deputies were able to see a very real semi-automatic handgun on the desk in close proximity to the Lakeview man.
Tiskus said he had fired the weapon in an attempt to defend himself against people out to do him in. Other weapons were found in the residence, with two handguns having recently been fired.
Tiskus was taken into custody.
A woman living in the home and identified as Tiskus' girlfriend, said he had been using methamphetamine heavily in the few days leading up to the shooting episode. She said mixing the drug with Tiskus' existing psychological problems resulted in a volatile combination.
She told the deputies when Tiskus returned to the home the morning of the shooting incident, he told the girlfriend men were outside trying to do him harm. The woman said Tiskus got a handgun and started shooting through the front door. He then went out on the porch and started firing the pistol again. Tiskus was also reported to have fired rounds in the dining room area before retreating back to his office.
Bullet holes were also found in a pontoon boat parked in the yard and in a shed directly in line with the neighbor's house.
Authorities said no one was injured during the incident.
On Thursday, Justin Downum who had been representing Tiskus asked the court for permission to withdraw from the case and the request was granted. Downum reported Tiskus had not been cooperative and had basically refused to assist the lawyer in working on his case.
Tiskus was set to be returned to the Independence County jail shortly after he made his appearance before Judge Putman. He was ordered to reappear in Baxter County Circuit Court June 27.
WebReadyTM Powered by WireReady® NSI