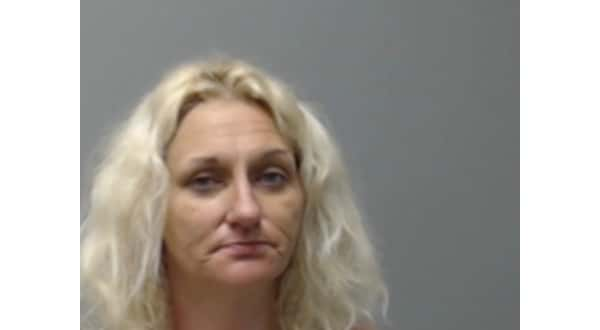 A Midway woman is accused of biting a cop's finger while he was searching her mouth for drugs. Forty-two-year-old Eva York is in the Baxter County Detention Center on multiple felonies and misdemeanors.
According to the probable cause affidavit, a Mountain Home Police officer initiated a traffic stop Friday afternoon on a van York was reportedly operating with an expired license. She was instructed to exit her vehicle due to her allegedly moving and moving her clothing while she was stopping. The officer says he again observed York using her hands to move her shirt and undergarment.
Another officer arrived to assist, and while they were speaking, the first officer reportedly observed York move her shirt and put her hand in her mouth. He asked her what she was taking out of her shirt, but she was not able to speak.
The officer put York in a controlled neck restraint to keep her from swallowing. After refusing commands to spit any item out of her mouth, she finally complied and spit out a plastic bag containing three other small bags. One bag contained a white crystal substance, one had a dose of buprenorphine and the other contained a green leafy substance.
York appeared to have something else in her mouth. The assisting officer was wearing gloves and attempted to retrieve the items from her mouth, but she allegedly bit down on his finger. A controlled neck restraint was again administered, and officers continued their attempt to retrieve the items while she was trying to swallow them. York finally spit out several blister packs containing six doses of buprenorphine.
Officers later found a glass pipe with residue in York's undergarment. She later refused medical treatment and reportedly admitted the bag contained marijuana and methamphetamine.
York faces felony counts of possession of a Schedule II controlled substance (methamphetamine), possession of drug paraphernalia, tampering with physical evidence, possession of a Schedule III controlled substance and probation violation, as well as misdemeanor counts of refusal to submit to arrest and third-degree battery. Her bond was set at $5,000.
WebReadyTM Powered by WireReady® NSI