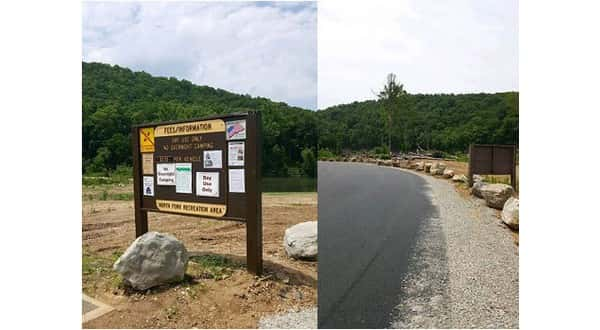 A majority of the North Fork Recreation Area near Dora was reopened Friday after a recent vandalism incident. According to the U.S. Forest Service, the campground and the new water-play area is open to visitors for playing in the river and launching canoes and kayaks.
The vandalism and property destruction were first discovered at the site following the Memorial Day weekend. Asphalt was spray-painted with graffiti within 24 hours of paving, gates were smashed and other harassing information was posted around the recreation area.
Ava/Cassville/Willow Springs Ranger District employees worked quickly to get the area repaired. In addition, Forest Service and Ozark County law enforcement increased patrols in the area.
Boulders have been placed along the parking area facing the river to deter visitors from driving to the river's edge. The parking lot is set to be striped, and parking stops are set to be placed on the side the picnic tables are located. Motorists are asked not to take vehicles off paved areas when visiting the recreation area.
Camping costs $10 per night for non-electric sites and $15 per night for electric sites. In addition, day-use fees are $2 per vehicle or $20 for a season pass. For more information, contact the Ava office at 417-683-4428.
WebReadyTM Powered by WireReady® NSI