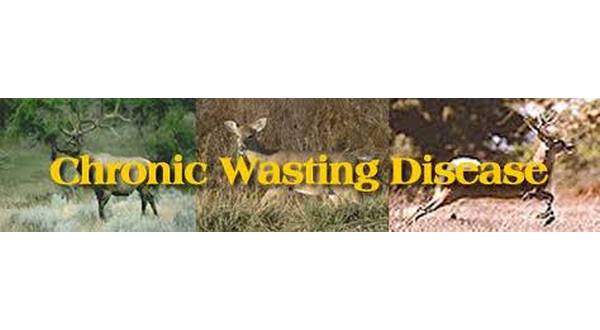 The Arkansas Game and Fish Commission has expanded the Chronic Wasting Disease Management Zone to include Baxter, Scott and Stone counties following the confirmation of CWD-positive deer in or near these counties during the 2018-19 deer hunting season.
AGFC biologists identified 241 new positive cases of chronic wasting disease in white-tailed deer and five elk during the 2018-19 deer hunting season. Among these were positive cases on the northern edge of Scott County and the eastern edge of Searcy County. To ensure compliance with the AGFC Code of Regulations, any county where a wild or captive cervid tests positive for CWD and any county within a 10-mile buffer of a positive CWD sample will be included under the CWD management zone regulations.
Inclusion within the CWD Management Zone will mean new regulations concerning baiting and feeding wildlife, hunting on public and private land within these counties, and movement of harvested deer. Supplemental feeding of wildlife is not allowed within the entire CWD Management Zone; however, baiting is allowed from Sept. 1-Dec. 31 for hunting purposes.
Food plots may be used year-round in the CWD Management Zone as they do not concentrate deer in such close quarters as feeders, salt licks or bait piles. Certain baits also may be used for trapping and bear hunting purposes, with bear baiting allowed from 30 days before bear season opens until the end of bear season. Bear baits may only be dog food, cat food, pastries/bread, grease, non-wildlife meat scraps, popped popcorn, fish and fish byproducts. Exceptions to this feeding and baiting rule include Incidental feeding from active livestock or normal agricultural operations as well as feeding birds and squirrels with common bird feeders and squirrel feeders.
Cedar Creek, Muddy Creek, Norfork Lake and Sylamore wildlife management areas will be relaxed by the new regulations concerning CWD. Within these WMAs, button bucks will now count toward a hunter's antlerless bag limit and antler size restrictions such as the three-point rule will be removed. These liberalizations focus additional harvest on the male segment of the herd, which is one of the best known management practices regarding disease dispersal. Private land hunters in these counties also will see the lifting of antler restrictions and the change of button bucks from being checked as bucks to antlerless deer. Deer harvest limits also will be liberalized on private land to help lower concentrations of deer and slow the spread of the disease.
Baxter, Scott and Stone counties will be included in Tier 2 of the CWD Management Zone's carcass movement regulations as well. Deer and elk harvested on private and public ground from these counties may not be transported intact outside of the CWD Management Zone. Only the low-risk items including antlers and cleaned skulls, meat with all bones removed, cleaned teeth, hides and finished taxidermy products may be taken to areas outside the CWD Management Zone.
For more information, go online to agfc.com/cwd.
WebReadyTM Powered by WireReady® NSI