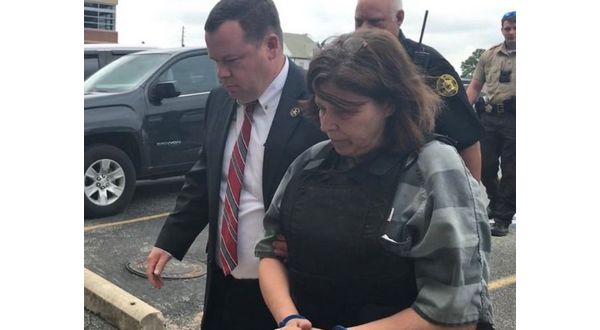 Photo: Courtesy KAIT. O'Donnell being led into court Monday.
A judge found probable cause Monday to charge a Pocahontas woman with capital murder in the death of former State Senator Linda Collins.
KAIT Jonesboro reports 48-year-old Rebecca Lynn O'Donnell also faces abuse of a corpse and tampering with physical evidence charges.
The judge did not set bond at this time.
O'Donnell was arrested Friday in connection with the case.
Randolph County Sheriff Kevin Bell says he cannot specify why she is considered a suspect because it would interfere with the investigation.
However, Bell said he arrested O'Donnell around 4 p.m. Friday after a traffic stop on U.S. Highway 62 West near Burgess Road at Pocahontas.
Arkansas State Police say, "The investigation is presently at a critical juncture and no further information will be released at this hour until authorities are confident it will not comprise the integrity of the criminal case."
However, officials say special agents with the Arkansas State Police Criminal Investigation Division, Randolph County Sheriff's deputies and the Third Judicial District Prosecuting Attorney's Office are working on the investigation.
Collins' body was found June 4 outside her home on Highway 90 West, law enforcement said at the time.
On June 7, Arkansas State Police confirmed that the remains found at the scene were those of Collins.
Randolph County authorities, as well as Arkansas State Police, have been investigating Collins' death as a homicide.
Earlier in the investigation, Prosecuting Attorney Henry Boyce said in a media release no information about the case would be released while it was under investigation.
Visitation for Collins, who served as both a state Representative and state Senator in Little Rock, was held Friday in Pocahontas.
Former State Senator Bryan King served with Collins and attended the visitation.
King said, "We were able to serve with her and know her as a person, as a mother and as somebody that really cared about issues," King said. "She was courageous, she was undaunted. I mean a lot of the behind the scenes things in politics that was so bad, and quite frankly brutal, she would keep fighting."
The woman who has been arrested in connection with the murder of former state Sen. Linda Collins appeared as a corroborating witness in Collins' divorce case, while a man close to O'Donnell, Tim Loggains, served as a power of attorney for Collins, according to divorce records on file with the Arkansas Administrative Office of the Courts.
Both Loggains and O'Donnell are seen together in numerous Facebook posts.
The records show O'Donnell was one of three witnesses called in the case – Collins and her former husband, former circuit judge Phil Smith being the other two.
Meanwhile, records also show that Phil Smith filed an emergency motion in October 2018 in Randolph County Circuit Court involving Tim Loggains.
"On October 1, 2018, Plaintiff, by and through Mr. Tim Loggains who she has given power of attorney, deposited an Arkansas tax refund check in the amount of $52,401.38 into the parties' joint Bancorp South account …," Phil Smith alleged in court filings. "The refund check was dated November 27, 2017, indicating that Plaintiff has been in possession of the check for almost a year, during which time discovery and depositions were conducted. At no time did Plaintiff indicate that she had received these funds. On that same date, Plaintiff, through Mr. Loggains, wrote a check from the Bancorp South account to the bank in the amount of $52,401.38, with a memo line notating 'Cashier's Check'. A cashier's check was issued to Plaintiff in the amount of $52,401.38 on the same date."
Smith requested he "be provided one-half of the funds, as they were marital funds" as well as one-half of an expected federal refund check.
"Plaintiff's counsel responded that the Court has already issued a judgment for the missing money, and therefore, Defendant was not entitled to reimbursement. As anticipated, on October 12, 2018, Plaintiff, again through Mr. Loggains, attempted to cash the 2016 federal tax refund check in the amount of $428,522.84. Plaintiff attempted to obtain two cashier's checks, one for $423,000 and one for $5,522.84. Defendant (Smith) contacted the bank and requested that the deposit be refused without his signature. At this time, it is Defendant's belief that Plaintiff (Collins) is still in possession of the refund check."
Smith also said in court paperwork he believed both checks were for refunds on 2016 federal and state taxes, which had been paid during the couple's marriage.
Smith asked for an order to prevent Loggains from acting without Smith's written permission or signature on any joint transactions, the court records note.
WebReadyTM Powered by WireReady® NSI