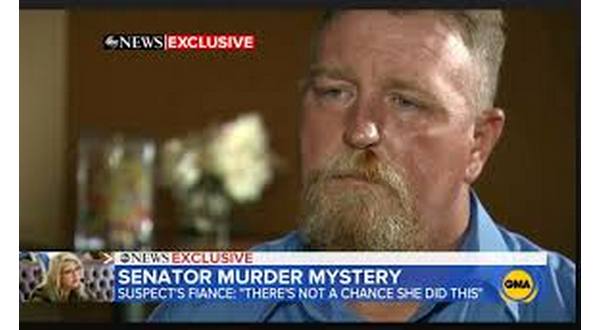 Photo: Courtesy ABC News.
The fiancé of a woman arrested in connection with the murder of former state Senator Linda Collins says there's "no way" she is guilty.
KAIT in Jonesboro reports Tim Loggains appeared in an exclusive interview airing Wednesday on Good Morning America.
Loggains' fiancée, Rebecca Lynn O'Donnell, is accused of murdering their friend, Collins.
But Loggains claims police have made a huge and inexplicable error.
Loggains says he had no idea why investigators arrested O'Donnell on suspicion of capital murder.
Collins was found shot dead and wrapped in a blanket outside her Pocahontas home on June 4.
Loggains says he was the one who broke the news to O'Donnell.
Loggains says, "I just told her, they found Linda dead." He says O'Donnell collapsed when she heard the news.
Police records were sealed the day after Collins' body was discovered. Authorities have not said how or when she was killed.
More than a week after the murder, O'Donnell and Loggains were on their way to the memorial service for Collins when they noticed flashing police lights.
Loggains says authorities stopped them with his 13-year-old son in the truck. He says, "We stop and they have AR-15s pointed at us. You could see the look of utter disbelief in her face. Not knowing what was going on, you could just see it."
O'Donnell worked on Collins' most recent campaign and, according to Loggains, was the last person known to have seen Collins alive on May 28 when she took her lunch.
He says, "They were very close. You gotta understand, Becky worked for Linda but Linda was a family friend. It was like Becky's sister. Linda was like my sister."
They were so close Loggains says O'Donnell was a corroborating witness in Collins' divorce, and he had power of attorney over Collins and oversaw some of her financial matters, which he admits brought him under some public scrutiny.
Loggains says, "I didn't wanna do it but Linda needed the help, and you help a friend when they need it. I never made a nickel off of helping Linda do any of that. Period."
When asked if he was 100 percent certain his fiancée had nothing to do with the murder of Linda Collins, Loggains answered simply: "Yes, I am."
He also denied having anything to do with Collins' murder.
He says, "I did not."
He believes the real killer is still out there.
"She's not capable of this," Loggains says of O'Donnell. "Either she is the best actress in the world and completely fooled me or there's not a chance she did this. I'm going with there's not a chance she did this."
WebReadyTM Powered by WireReady® NSI