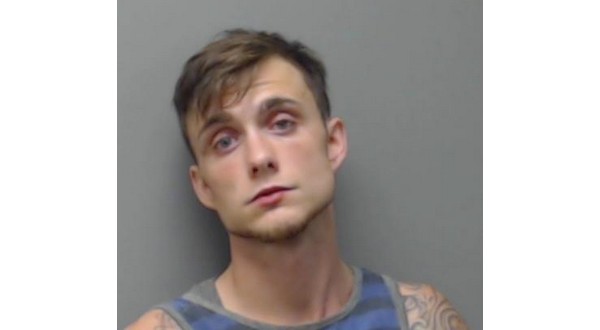 A rural Gassville man is behind bars after a Tuesday morning high-speed pursuit began in Baxter County and ended with his arrest following a manhunt in Fulton County. According to Baxter County Sheriff John Montgomery, 25-year-old Dylan Lawyer is in the Baxter County Detention Center, after he allegedly broke into an elderly couple's residence and forced them to drive him to Mountain Home.
A sheriff's corporal met a pickup truck just after 6:30 on U.S. Highway 62/412 traveling 91 miles per hour in a 55-mph zone and pursued the vehicle to initiate a traffic stop. The driver refused to stop and fled toward Fulton County at a high speed, and another deputy joined the pursuit.
The chase went through the Gepp community, and the driver eventually turned onto Enterprise Road. Deputies lost sight of the truck on the dirt road and discontinued the active pursuit. They found the vehicle at 6:45, but the suspect had fled on foot. Authorities later discovered the truck was stolen overnight from a residence on Basswood Lane in Baxter County. Deputies said the truck had substantial damage from the theft and the pursuit, and they located a handgun inside the truck.
The Arkansas Department of Correction's North Central Unit sent its canine tracking team to join deputies from Baxter and Fulton counties, and the Baxter County Sheriff's Office helicopter was also launced to assist in the search which continued until just before 10.
Another pickup truck approached a roadblock and stopped. The driver of the truck alerted authorities the suspect they were looking for was in the back seat, and he was taken into custody. It was discovered the suspect reportedly broke into the occupied residence of an elderly couple in Fulton County and forced them to get into their truck and drive him out of the area. The driver stated when they approached the road block, the suspect was ordering him to plow through it without stopping.
As the investigation continued, the suspect was linked to another reported break-in attempt of an occupied residence on Baxter County Road 390 around 5:30 Tuesday morning. He allegedly threw a rock through the window of the residence to gain entry, but he was run off by the homeowner.
In Baxter County, Lawyer faces felony counts of criminal attempt to commit aggravated burglary, aggravated assault, breaking or entering, fleeing, two counts of theft of property, possession of a firearm by certain persons and criminal mischief. He also has a penalty enhancement as a habitual offender. Lawyer's bond is set at $100,000, and he is set to appear in Baxter County Circuit Court this month. He also has a hold with charges pending in Fulton County.
Sheriff Montgomery says Lawyer has been booked into the Baxter County Detention Center seven times since 2011. In December 2012, he was convicted of several burglary and theft charges in six different Baxter County court cases and was sentenced to two years in prison. He served nine months in the Baxter County Detention Center awaiting trial and bed space at the Department of Correction, and he then served a few months in prison before being paroled. Other charges were dismissed. Lawyer was out on bond after being arrested last month for theft of property.
WebReadyTM Powered by WireReady® NSI