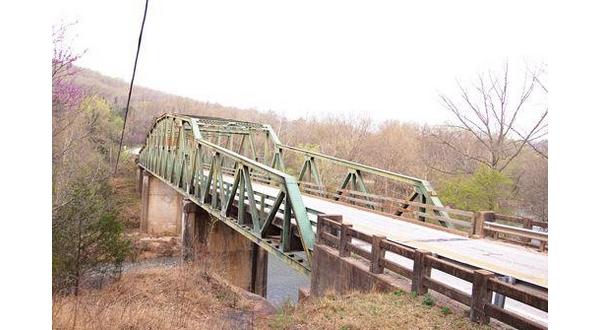 Photo: Courtesy Harrison Daily Times.
Construction to replace the Pruitt Bridge on State Highway 7 in Newton County will begin Wednesday.
The Arkansas Department of Transportation (ARDOT) and its contractors began preparation work in early February for the replacement of the bridge, located approximately 11 miles south of Harrison and 6 miles north of Jasper.
The existing bridge's condition has deteriorated over the years as traffic has increased along the Highway 7 corridor between Harrison and Russellville.
On Wednesday area closures will be established to protect park visitors, resources, contractor staff and equipment. Except for paddling and equestrian thru-traffic, the Buffalo River and its banks from the Pruitt Bridge to the edge of the cleared construction area will be closed until further notice.
Construction is not expected to affect access to Pruitt Landing on the east side of the bridge. Visitors may still use the swimming area upstream of the bridge at the Pruitt day use area, equestrian users may still access the Old River Trail/North River Road and hikers may still access the Mill Creek Trail during this time. The Pruitt Bluffs area will only be accessible by boat or by hiking upstream from the Lower Pruitt Landing area.
According to ARDOT, an average of 2,800 vehicles crossed the Pruitt Bridge per day in 2016 and 13 percent of those vehicles were large trucks.
WebReadyTM Powered by WireReady® NSI