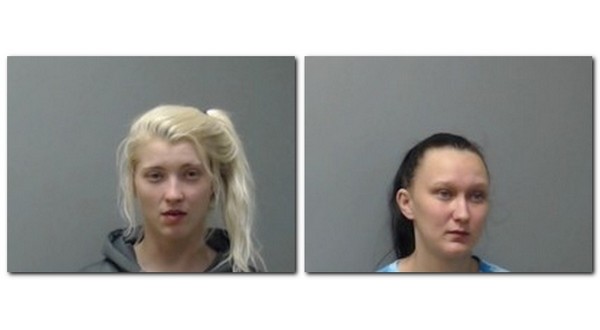 Dakota Frasier and Shelby Homer
Two area women are accused of burglarizing multiple Mountain Home residences. Twenty-three-year-old Dakota Frasier of Yellville is out on bond, and 22-year-old Shelby Homer of Harrison is in the Baxter County Detention Center.
According to the probable cause affidavit, the Mountain Home Police Department received a report June 23 of a residential burglary on Glenstone Drive with nearly $600 worth of property stolen, including narcotic pills. Another report came into the department that day of a $50 black vape being stolen from a residence on Ridgecrest. A third burglary complaint alleged a wallet and prescription medication were stolen from a residence on McClure Lane.
Later that day, Frasier and Homer were arrested for outstanding warrants, and items were reportedly recovered from the burglaries during an inventory search. The two suspects were interviewed separately the next day, and they allegedly admitted to entering the Glenstone Drive residence and removing the items reported stolen. A search warrant was issued on June 25, and additional stolen items were reportedly recovered from the vehicle Frasier and Homer occupied.
Both females face a felony count of residential burglary, a misdemeanor count of theft of property and two misdemeanor counts of theft by receiving. Frasier posted a bond July 26 of $10,695, and Homer's bond is set at $10,895.
WebReadyTM Powered by WireReady® NSI