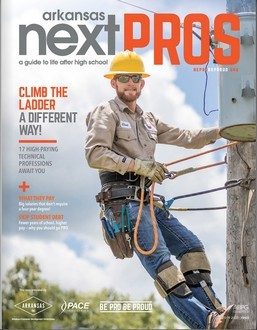 A lineman for North Arkansas Electric Cooperative is featured on the cover of the annual magazine publication
Arkansas Next Pros
, a guide to life after high school.
Clint Ray of Salem is one of 17 young pros across the state featured in an article revealing why Arkansas' technical professions should be considered for careers.
Ray's portion of the feature notes the 27-year-old Salem High School graduate obtained a technical certificate in high voltage lineman technology from Arkansas State University-Newport, before completing an apprenticeship at NAEC.
Linemen like Ray deal with electrical lines, whether on utility poles or in underground systems.
Ray says about this profession, "I enjoy meeting new people on the job every day. That could be when replacing a pole or restoring power after a storm. I also like being a role model for kids. The definitely like and want to ride the bucket trucks. That makes your day. I also like helping the apprentices starting their careers."
The article notes the top 10 percent of linemen in Arkansas earn $95,780 annually, while the median wage is $69,960 or $33.63 hourly.
The job outlook for the profession is an expected annual growth of 14 percent, with an average of 160 job openings in the state annually.
The magazine promotes Be Pro Be Proud, the Associated Industries of Arkansas initiative, an effort to change student, parent and teacher perceptions about technical professions in the manufacturing, transportation and construction industries. It strives to show the next generation of leaders how to turn their passions into progress.
On Thursday, officials kicked off the 2019-2020 Workshop Tour and unveiled the Second Generation Be Pro Be Proud Mobile Workshop in the Statehouse Convention Center in Little Rock.
To date, the original mobile unit has made more than 450 stops in 250 cities across the state at middle schools, high schools, two-year colleges, fairs and festivals, rural community events, job fairs and businesses. More than 60,000 students have visited the trailer.
You can read the full article at arkansasstatechamber.com.
WebReadyTM Powered by WireReady® NSI