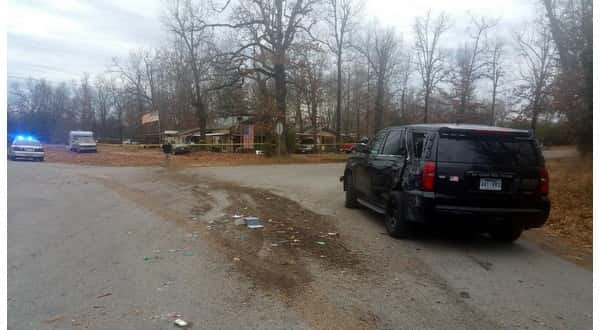 The jury trial of a rural Mountain Home man charged with shooting and killing his landlord in late 2017 got underway in Baxter County Circuit Court Monday.
It took about two-and-a-half hours to select the 12 members of the jury and three alternates.
Sixty-one-year-old Robert Dean Penny is charged with first-degree murder, two counts of aggravated assault and one count of criminal mischief.
Sam Pasthing, who represents Penny, told the jury his client would likely testify during the trial. It was also apparent from many questions Pasthing asked during the day Monday that the self-defense doctrine would play a role in explaining why Penny did what he is charged with doing.
The shooting is reported to have been sparked by an alleged eviction threat, apparently based on Penny's refusal to make good on a promise he made to join a work detail with other tenants.
At the time of the murder, the property at 5097 Old Military Road was home to a number of people living in what was described as a boarding house-type arrangement. It was not unusual for the tenants who stayed there to "pay down" their rent by working around the property. A former tenant testified the work consisted of mowing, cutting wood, doing small construction projects and keeping leaves raked.
The murdered man, then 71-year-old Chester Raymond Hornowski, was the owner of the property and the landlord to his tenants. A 34-year-veteran of the Chicago Police Department, Hornowski had run a similar multi-resident operation in Chicago prior to retiring to the Twin Lakes Area, according to people who knew him. The rent tenants paid gave them a bedroom and access to a central kitchen.
Prosecutor David Ethredge said the case was about choices, including Penny's choice to shoot Hornowski 18 times, reload and fire four more bullets into the landlord's body. Penny is alleged to have said he fired the additional rounds because if he was kicked off the property, it would "ruin his life."
Hornowski was reported to have been hit in the chest, face and hands.
"That man," Ethredge told the jury while pointing at Penny sitting at the defense table, "chose to murder Chester Hornowski."
After going to meet with Penny apparently about not keeping his promise to join the work detail and the possibility the situation might lead to eviction, Hornowski was said to have asked all the residents to come to the area where he and Penny were talking. Before they could all gather, gunshots rang out.
Penny was said to have confronted some of the other tenants after the shooting. He told them Hornowski was dead and taunted, "you want some of this, too?" in reference to the .9mm semiautomatic pistol he was carrying.
One former resident at the Old Military Road property said Penny had told Hornowski he was retired and did not need to work. That, the former resident testified, led Hornowski to decide he was going to ask Penny to move.
Pasthing told the jury Penny's reluctance to work was due to his poor health.
Another tenant testified Hornowski did not appear angry when he went to meet with Penny. The man told the jury Hornowski "would give you the shirt off his back. I have seen him angry two times, but he was never physical." Another resident said Hornowski "could be kinda rough. I chalked it up to him being a cop and being from Chicago."
The initial calls to 911 came in just before 8:30 a.m. on Dec. 5, 2017. One male caller reported a man had been shot multiple times at the Old Military Road address. He said he was hiding and did not know where the shooter was.
Baxter County Sheriff John Montgomery and a number of his deputies testified Monday. They laid out the events at the Old Military Road address, beginning with the fact they arrived knowing they had an active shooter on the property, but not knowing exactly where he was.
After the officers arrived, Penny is reported to have bolted from the building, gotten into his pickup truck and made a wild dash to get away from the scene. According to investigative reports, Penny is said to have accelerated rapidly, almost hitting a Baxter County deputy sheriff. Two other deputies discharged their weapons at the fleeing vehicle to try and protect their fellow officer.
The deputy, Sgt. Doug Muerer, said he saw Penny's truck coming directly at him. He told the jury he could hear the engine accelerating, as he was scrambling to get out of the way. Muerer said he discharged his weapon four times to try and disable the truck or the driver. "I was just afraid he was going to run over me," Muerer said.
Penny's vehicle hit a ditch on the northeast corner of the property, becoming airborne twice before smashing into an unoccupied 2017 SUV assigned to Sheriff Montgomery.
According to officers at the scene, Penny was slightly injured while trying to get away, and transported to Baxter Regional Medical Center for treatment. He was released and taken to the Baxter County Detention Center, where he has remained since the day of the shooting. Penny's bond is set at slightly more than $1 million.
Approximately 17 officers and investigators from the Baxter County Sheriff's Office, Arkansas State Police, Mountain Home Police Department and the Baxter County Coroner's Office worked to process the scene and gather information. A search warrant was obtained for the property, and a Smith and Wesson .9mm semiautomatic pistol was one of the items taken into evidence.
Penny had his own story of what happened and why. He told investigators Hornowski had come at him "in a rage," threatening to throw him out of the residence. He alleged Hornowski had punched him in the chest several times. Investigators noted they found no visible marks on Penny to bolster his allegation of being struck.
At one pre-trial appearance, it was indicated Penny would rely on the self-defense doctrine.
A friend who knew Hornowski in Chicago said it was sad to think he had served as a Marine during the Vietnam conflict, then spent decades with the police department in the large Illinois city, "and he goes down there and gets killed."
It is estimated the trial could last until Wednesday or Thursday.
WebReadyTM Powered by WireReady® NSI