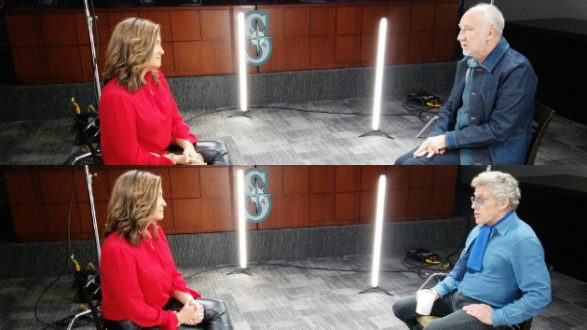 Courtesy of WCPOThe Who's Pete Townshend and Roger Daltrey are featured in a new hour-long documentary called The Who: The Night that Changed Rock that focuses on the incident at a December 3 1979, concert at Cincinnati Riverfront Coliseum, where 11 young people were crushed to death as a frenzied crowd tried to push its way into the venue.
The film will premiere this Tuesday, December 3, the tragedy's 40th anniversary, on Cincinnati-area ABC affiliate WCPO at 8 p.m. ET, and also on WCPO.com.
Townshend and Daltrey sat down for on-camera interviews with WCPO anchor Tanya O'Rourke, marking the first time they've talked at length about the incident.
"I'm still traumatized by it," Pete says in one segment. "It's a weird thing to have in your autobiography that, you know, 11 kids died at one of your concerts. It's a strange, disturbing heavy load to carry."
Roger, meanwhile, shares, "That dreadful night of the third of December became one of the worst dreams I've had in my life."
The documentary also includes conversations with some of the victims' family members, as well as with survivors of the incident. In addition, the film looks at the effect the tragedy had on local communities who lost loved ones, and on subsequent concerts staged at large venues in the U.S.
Also participating in the doc is longtime Who manager Bill Curbishley, who was an eyewitness to the deaths and allowed the band to play the show without informing them what happened until afterward.
"Despite everything, I still feel inadequate," he admits. "I don't know about the guys, but for me, I left a little bit of my soul in Cincinnati."
A companion podcast to the film will be available starting Wednesday, December 4.
Copyright © 2019, ABC Audio. All rights reserved.