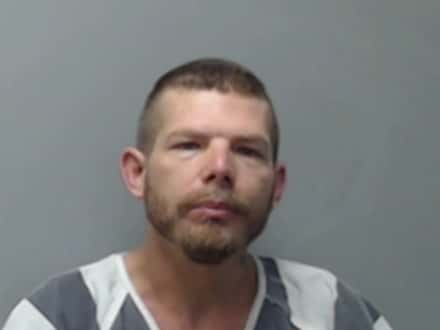 Photo: Larry Branscum
A 31-year-old man picked a bad place to have an apparently drug-fueled tantrum in which he tried to attack a Mountain Home policeman, pulled off his shirt, took down his pants, threw items from his pockets and proclaimed he was doing God's work.
Larry Branscum, who is listed on the jail log as living in Flippin, was walking in front of the Baxter County Sheriff's Office at the time of his major meltdown Christmas day.
He appeared in Baxter County Circuit Court Thursday on charges of possession of methamphetamine, disorderly conduct and resisting arrest. He will reappear for formal arraignment Jan. 9.
The rather strange incident began when a Mountain Home Police officer pulled into the lower parking lot of the 911 Center and spotted Branscum. The officer reported the man was displaying indicators of someone under the influence of a drug.
When the officer got out of his patrol car, Branscum charged across busy U.S. Highway 62B screaming and making profanity-laced threats. He said he was going to kill the officer and refused all commands to keep his hands where they could be seen. In his report, the officer said he believed because Branscum had been reaching behind his back, he could have a weapon. A stun gun was employed, but didn't stop Branscum.
The officer called for backup and a dispatcher from the 911-Center came to offer assistance. When a second Mountain Home officer arrived on the scene, Branscum sat down and was handcuffed.
After the short trip to the Baxter County Detention Center, Branscum said he had "dope" on his person and wanted to give it to the officers. A small plastic bag containing a white crystal-like substance was found in one of his pockets.
WebReadyTM Powered by WireReady® NSI