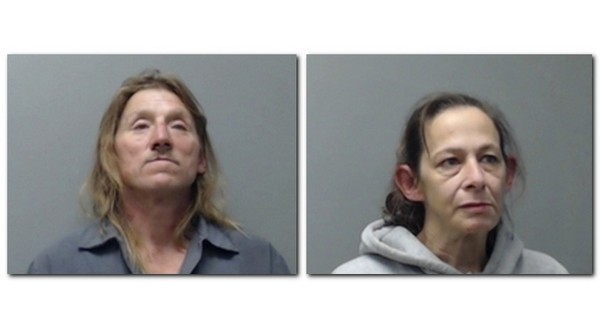 Photos: Troy Marlowe and Stacy Marlowe
A Midway couple made their initial appearance in Baxter County Circuit Court Thursday following their arrests Monday and the dismantling of their alleged drug labs.
According to the probable cause affidavits, Arkansas State Police troopers and an officer from Arkansas Community Corrections conducted a home visit at a residence along Deb Mars Wood Terrace, leading to the arrest of Troy Marlowe and Stacy Marlowe, both 48 years old.Contact was made with Stacy Marlowe upon arrival at the residence about 7:45 Monday evening. She reportedly admitted Troy Marlowe had been staying at the residence from time to time and allowed officers to enter the home. In plain view on a TV stand, officers allegedly observed a glass smoking device and marijuana residue.A further search revealed numerous amounts of used hypodermic syringes, including some with a white powdery substance field testing positive for methamphetamine. Other items were also reportedly located commonly used in the manufacturing of meth.
A search of an attached garage/work shed revealed additional components used in the manufacture of illegal drugs, including a one-pot "shake and bake" methamphetamine lab valued at $15,000.
Contact was then made with officers from the 14th Judicial District Drug Task Force to dismantle the labs.
Stacy Marlowe allegedly admitted to being aware of the illegal activity at the residence.
Both Stacy Marlowe and Troy Marlowe were taken into custody and have been charged with felony counts of manufacturing methamphetamine, a Class Y offense. Class Y felonies are the most serious classification of crime in Arkansas not punishable by death. They are also charged with felony counts of possession of methamphetamine. Troy Marlowe is charged with being a habitual offender, with enhanced penalties. His bond was set at $100,000. Stacy Marlowe's bond is set at $15,000.
Troy Marlowe's criminal history shows six prior drug manufacturing charges and numerous possession offenses, along with resisting arrest, firearm possession and assault of a law enforcement officer. Stacy Marlowe's criminal record shows prior drug-related charges, including manufacturing.
WebReadyTM Powered by WireReady® NSI