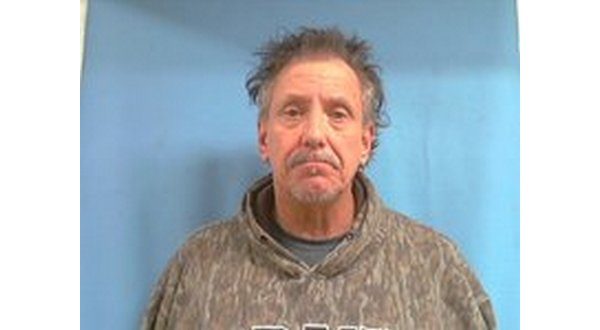 Photo: Jeffery Allen Holloway
An Independence County man, 54-year-old Jeffery Allen Holloway of Batesville, made his initial court appearance Tuesday in Stone County Circuit Court, after law enforcement deployed spike strips to stop his vehicle following an attempt to make a traffic stop. His bond was set at $20,000.
Holloway is facing a felony charge of possession of drug paraphernalia and being a habitual offender, He faces misdemeanor counts of driving while intoxicated, drug; refusal to submit to chemical test; driving while license cancelled, suspended or revoked; possession of an open container in a motor vehicle; fleeing; and non-operating headlights.
According to the probable cause affidavit, the pursuit began on Main Street in Mountain View and continued onto State Highway 9. While the spikes were effective on three tires, Holloway's vehicle reportedly continued traveling for a short distance in the Dec. 23 pursuit before stopping.
Holloway was taken into custody, and his vehicle was searched. The search revealed a bottle of whiskey about half full in the driver's side floorboard, a glass smoking pipe, a medication bottle in someone else's name containing five orange pills and a wallet and an ID not belonging to Holloway. A field test on the glass pipe came back positive for methamphetamine.
Two attempts were made at the Stone County jail to administer a Standardized Field Sobriety Test, with Holloway reportedly refusing to provide a urine sample.
A check of the Arkansas and national crime information centers databases shows Holloway has an extensive criminal history:
* Jonesboro – convicted three felony counts of breaking or entering
* Sharp County – convicted of felony counts of theft of property and breaking or entering
* Hoxie – convicted of felony counts of theft of property and commercial burglary
* Arkansas State Police – convicted of felony theft by receiving
* Independence County – convicted of felony delivery drug paraphernalia to anyone under 18
* Independence County – convicted of felony possession controlled/counterfeit substance without a prescription; delivery, possession, manufacture drug paraphernalia
* Poinsett County – convicted possession of firearms by certain persons
* Cleburne County – convicted of felony theft of property
WebReadyTM Powered by WireReady® NSI