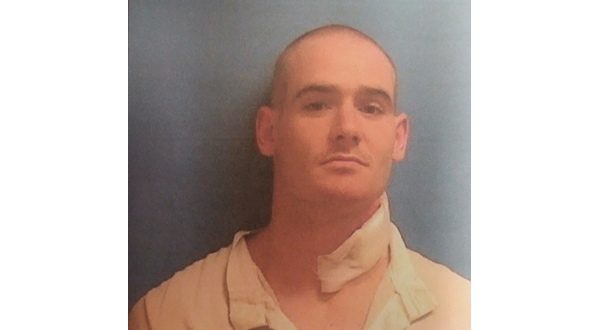 Photo: Michael Newman
A Midway man who threw urine on deputies twice in the same day at the Baxter County jail appeared in circuit court Thursday.
A plea was being taken from 30-year-old Michael Newman when he proclaimed himself innocent of all of the accusations against him, except for throwing the urine. He is charged with four counts of aggravated assault involving a law officer or staff member at a correctional facility, four counts of terroristic threatening and two counts of impairing the operation of a vital public facility.
After Deputy Prosecutor Kerry Chism recited the facts contained in the probable cause affidavit, Circuit Judge John Putman asked Newman if he had done the things outlined in the affidavit.
In a profanity-laced statement, Newman said the statements weren't true. He said he didn't fight or threaten anyone. Judge Putman stopped the procedure and told Newman he did not want him "pleading guilty if you are not guilty."
Newman, who was slouched over the podium during the process, said, despite his claim of innocence, he wanted to plead guilty because "there's no chance for somebody like me."
At one point, Newman appeared to spew new threats. Judge Putman asked Newman if he had mental problems and he replied "yep." He had used "yep" and "nope" to answer questions related to the change of plea.
The plea taking was put on hold.
Newman was an inmate in the jail July 26 last year when the incidents took place.
The first occurred at around 8:50 a.m. when a female deputy walked past Newman's cell and he reached through the "food port" and threw liquid on her from a Styrofoam cup. The deputy initially thought Newman had thrown water, but it was determined to have been urine.
At 11 the same morning, deputies attempted to put Newman in a restraint chair for his safety, as well as that of the jail staff.
Newman, who had been slamming his body against the cell door and kicking at it, threw another cup of liquid on the three deputies attempting to get him under control. The urine was reported to have covered one deputy's face.
Newman then began to fight the deputies who had to use a stun gun on him twice so they could gain control of the unruly inmate.
At first, Newman threatened to kill the deputies, then changed his mind and said he would "kill your kids and family" instead.
The deputies hit by the urine were sent to Baxter Regional Medical Center (BRMC) to be examined.
Newman is an inmate at the Ouachita River Correction Unit of the state prison system at Malvern. He is apparently confined in a section of the unit reserved for "special needs inmates," including those with mental or physical health problems.
The first criminal case filed against Newman dates from 2008. He has caused problems in the jail previously, according to court records, including swallowing a razorblade and cutting himself with one. In July 2007, Newman told jail staff he had swallowed a razorblade. He was taken to BRMC where it was determined he had done as he said. The blade was located in his lower intestines, but it was discovered he had taped the edges so it would not cut him on the way down.
WebReadyTM Powered by WireReady® NSI