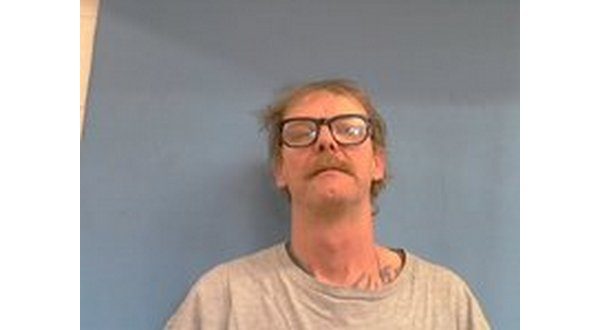 Photo: Bradley Troy McNealy
A long-simmering domestic dispute in Stone County has led to the arrest of a convicted felon resulting in felony charges of residential burglary, stalking and terroristic threatening. Bond has been set at $50,000.
According to a three-page affidavit, 48-year-old Bradley Troy McNealy of Floral in Independence County was arrested Jan. 5 at a Mountain View restaurant on a warrant for harassing communications. When advised he was under investigation for a reported incident involving his spouse on Friday, McNealy allegedly replied, "She is married to me, so she is my property."
While being searched, McNealy is reported to have said, "I'm going to be with her whether anyone likes it or not, till death does us part."
The latest incident leading to the arrest occurred late on the evening of Jan. 4 at a residence along Hell Creek Road reported as a break-in.
McNealy had reportedly gone to a camper where his wife was staying. The deputy responding to the call made contact with a man who reported McNealy had allegedly called him numerous times earlier in the day threatening to burn down his home and kill everyone there if he couldn't have his wife back and talk with her.
The Independence County man had reportedly fled into nearby woods.
McNealy's wife said the camper had been opened and an air horn was missing. She explained she kept the horn beside her bed to activate for help in the event her husband came in during the night.
She said she is afraid of her husband, believes his threats, and said he has hit her on more than one occasion.
The woman said McNealy went to prison the first time 20 days after they were wed in early 2016. She reportedly told the officer McNealy was released from prison only a short time before problems between them started.
McNealy was arrested again in 2018 and returned to a regional punishment facility (RFP) operated by the Arkansas Department of Correction.
The latest arrest follows a history of incidents between the husband and wife over the past two years.
Oct. 27, 2018 – Stone County deputies were dispatched to Shrock Road in reference to a domestic disturbance in progress. Upon arrival, deputies learned McNealy had fled into the woods. Deputies were advised McNealy had been involved in an argument, vandalized items in the house and punched a witness when "they" tried to intervene. McNealy was located later that day and arrested.
Oct. 31, 2018 – Deputies dispatched to same address on Shrock Road to a report of McNealy attempting to set the camper on fire that he shared with his wife. McNealy had reportedly threatened to kill the property owner's dogs and himself, according to witnesses. McNealy has allegedly started a small fire in a bread pan inside the camper burning pages of his wife's diary. He was arrested on a parole violation, transported to the Stone County jail and then to a RFP for parole violations.
On or about July 17, 2019 – Deputies were dispatched back to Shrock Road in reference to McNealy reportedly threatening the landowner. While McNealy was in prison, his wife allegedly moved her camper to another location fearing her husband might harm her when he was released. McNealy had reportedly threatened to burn down "their house and everyone in it, if they didn't tell him where his wife moved to."
On or about July 21, 2019 – Deputies were dispatched to a residence along Hell Creek Road in reference to McNealy threatening his wife, as well as the property owner. He also allegedly threatened to kill the woman's dog. He was reported to have sent his wife a photo via text message of a dog on its side.
August and September 2019 – Calls to the Stone County Sheriff's Department, but no reports filed. In September, a domestic disturbance was reported at an Independence County motel between McNealy and his wife. "Both were taken to the hospital to be screened."
Nov. 8, 2019 – Deputies dispatched to an address along Hell Creek Road in reference to McNealy allegedly breaking into his wife's camper. Again, McNealy fled into the woods prior to the arrival of law enforcement. His wife's wallet was reported stolen from the camper. While officers were on the scene, McNealy called, saying he didn't do anything, and he was in Batesville. McNealy's wife said her husband called her later and told her where he had hidden her wallet outside her home.
Dec. 6, 2019 – Stone County deputies responded to a residence along Hell Creek Road in reference to McNealy reportedly calling and harassing his wife and the landowner. While officers were present, McNealy allegedly continued to call and harass the victims. The victims reported the calls continued for weeks.
WebReadyTM Powered by WireReady® NSI