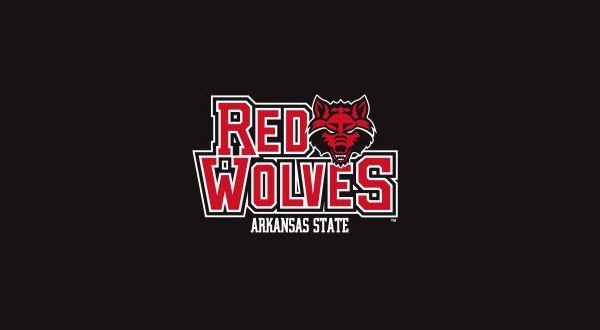 JONESBORO, Ark. – A season-best shooting night that featured four double-figure scorers propelled Arkansas State to its fourth straight victory Thursday night, defeating Appalachian State 76-58 at First National Bank Arena.
The Red Wolves (7-9, 4-1 SBC) shot a season-high 53.7 percent (29-of-54) from the field, including a blistering 57.9 percent (11-of-19) from beyond the arc to oust the Mountaineers (4-12, 1-4). With the win, A-State achieved its best start to conference play since the 2015-16 season, which saw the Red Wolves win their first 18 league contests. The win also matched the Red Wolves' longest winning streak from the 2018-19 season.
"I'm glad to get the win," said A-State head coach Matt Daniel, who earned his 150th career victory as a collegiate head coach. "We shot the ball out of our gourd, we took care of the ball, kept them off of the free-throw line and made our free throws. We did a good job on the defensive glass and gave ourselves a chance to win. Now we have to shift to Little Rock, who played last night and it was the first time they had lost at home in 38 Sun Belt games. It'll be a great introduction to my first game in this series. I'm looking forward to seeing what that game holds."
Peyton Martin led the way with 20 points on 8-of-11 shooting while grabbing five rebounds. Jada Ford tallied 16 points on six made baskets (four threes), continuing her progress up the charts for all-time made three-pointers at A-State, moving up to sole possession of fifth in program history. She has also made a trey in 12 straight games. Morgan Wallace posted a double-double for the second time in three games, scoring 13 points and grabbing 10 boards. Payton Tennison, for the second time this season, was perfect from the field, scoring 14 points on 5-of-5 shooting (4-of-4 from three).
As a team, A-State out-rebounded the Mountaineers 32-to-28 and dished out 23 assists on 29 made baskets for a stellar 79.3 assist percentage. The Red Wolves also forced at least 18 turnovers for the eighth time in the last nine games.
Nicola Mathews scored 18 points off the bench for App State and was the team's lone double-digit scorer. All 18 of her points came from three-point range, as the Mountaineers shot 10-of-27 (37.0 percent) from beyond the arc. Overall, App State shot 39.3 percent from the floor (22-of-56).
After a three by Ashley Polacek opened up the contest to give App State an early 3-0 lead, A-State responded with a 6-0 run that would give the Scarlet and Black its first lead of the night. The Mountaineers reclaimed an 8-6 lead on a Brooke Bigott trey and Lainey Gosnell layup, the Red Wolves took back the advantage on a three by Wallace and a midrange jumper by Ford to lead 11-8.
Mathews tied things at 11-all with 5:03 to go in the first, but three straight three-pointers by Ford (2) and Tennison put A-State ahead for good with 3:45 left in the opening quarter. The Red Wolves continued to pile on and led 28-15 after one quarter.
In the second, App State managed to cut the deficit down to 10 on an early 7-4 run, but A-State continued to display its offensive firepower with an 11-0 run to make it 43-22 with two minutes left in the half. The Red Wolves led 48-29 at the break.
A-State's largest lead of the night came about three minutes into the third quarter, when a three-point play by Martin made it a 25-point game at 57-32. The Mountaineers started to trim the deficit down to as much as 14 with just over two minutes left in the quarter on an 8-0 run that featured a pair of Mathews threes.
Another Mathews trey opened the fourth, cutting the Red Wolves' lead down to 13, but that was as close as it would get for the rest of the night, as A-State held off the Mountaineers for the 18-point triumph.
Arkansas State returns to action Saturday with a 2 p.m. road rivalry test down in the state's capital city, taking on Little Rock.
WebReadyTM Powered by WireReady® NSI