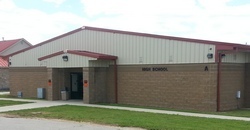 A third district in North Central Arkansas has joined the list of those opting for a four-day school week.Areawide Media of Salem is reporting the Viola School Board has voted to implement a four-day week schedule for the 2020-2021 academic year. Viola joins the Ozark Mountain and Norfork school districts moving to the four-day week, along with Western Yell County and Kirby.
The board vote in Viola came after months of research, discussion and most recently, two public meetings where parents and residents gathered to ask questions and receive more information about the schedule change.
During the public meetings, a draft of a school calendar for a four-day week was distributed, and though it will be used as a guide, Superintendent John May said the district will be working to finalize the document. Mondays were chosen as the day school will not be in session.
May says, "There may be a little tweaking to the schedule. There are some things (still in the planning stages). For example, in the afternoon we are going to be looking at some option of feeding students through either a snack or supper program."
May says it was important to make the decision now, so all concerns have time to be addressed and a solution applied, whether it's an issue to be resolved by the district or family.
Viola's current enrollment, kindergarten through 12th grade, is approximately 360 students, a number May hopes to see increase with the schedule change.
A top reason in making the schedule change is district officials are hoping families will spend more time together. Another added benefit will be the monetary savings.
May says, "Obviously, and it wasn't really our first thing, but the more we've talked about it, there are some savings and monetary benefits." With minimum wage and teachers' salary increases, although it isn't a huge amount, he says the savings will be helpful.
The pace to switch to four-day school weeks in Missouri has been more aggressive. KYTV in Springfield reports 61 districts made the change in the 2019-2020 academic year. In the previous two years, 58 others had made the transition.
That same report notes states west of the Mississippi may opt for a four-day week. However, that is not the case for those east of the Mississippi.
WebReadyTM Powered by WireReady® NSI