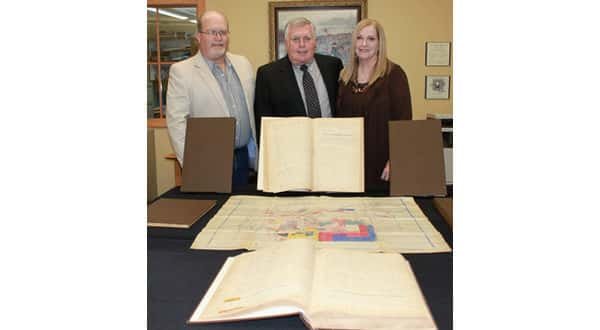 Photo: (from left) Vincent Anderson, reference librarian; Wayne Camp; and Carolyn Camp.
Local residents Wayne and Carolyn Camp have donated a collection of historical documents to the Baxter County Library for a digitization project estimated to take three months to complete. Once the records collected over decades are digitized, the six volumes will be given to the Baxter County Clerk's Office and placed in its vault. Then, the Baxter County Library will initiate the next phase of the project to transcribe the handwritten records.
In 1880, the Baxter County Building Commissioners contracted to build a new courthouse on the square in Mountain Home. The new courthouse endured almost a decade, and the wooden structure burned in February, 1890. Many of the county's valuable records burned or became water and smoke damaged, and it was not feasible for the records to be maintained within the county's collection. Seven months later, the Baxter County Court levied a tax to construct a new courthouse.
After the fire in 1890, County Clerk William F. Eatman immediately began the task of transcribing the damaged documents by hand. Eatman completed his task, and his records were certified a little over a decade from the fire. Eatman served as Baxter County Circuit Clerk for 21 years, and he owned the Baxter County Abstracting Company in Mountain Home.
The damaged Baxter County land transactions date back to 1857. The end result of Eatman's 10-year task produced a certified six-volume set of land records. Unfortunately, the land transcriptions were never placed back into Baxter County's possession.
Over the decades, the Camps came into possession of these historical documents.
Library historian Vincent Anderson says, "We are grateful to the Camps for their care and donation of the records. These once lost land transcriptions will shed light on some of our history we thought vanished in the flames of 1890. We are looking forward to seeing familiar and unknown names of our region's pioneers to come to light."
In addition to the records, the Camps donated a historic map of the Buffalo City and Lone Rock region detailing mining claims dating back to 1897.
WebReadyTM Powered by WireReady® NSI