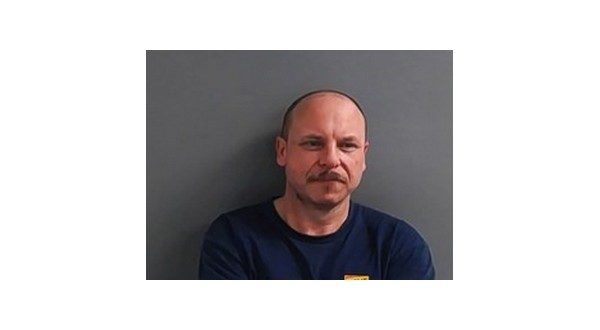 Photo: Christopher Rowe
Less than a week after a Marion County man stood before Circuit Judge John Putman facing charges from an incident last October, 45-year-old Christopher Rowe of Yellville was arrested and jailed again.
According to the probable cause affidavit in the latest incident, Marion County Sheriff's deputies responded to an altercation along County Road 6014 Feb. 3 involving a weapon.
They were confronted on the roadway by a man wearing a red sweatshirt, advising a firearm was involved and pointed to a house.
When officers approached the locked front door of the residence, they reported hearing yelling and screaming from inside the home before kicking in the door with their sidearms drawn.
They were met in a hallway by a female who was ordered to the ground and indicated two more people were downstairs.
Arriving in the basement, they were met by Rowe, who was ordered to the ground and told them a second man wearing a red shirt had jumped out of a window.
As Rowe was restrained, one of the deputies returned outside where he found the man in the red shirt standing in the roadway.
The man told the deputies he had come to the Rowe residence seeking a ride from the Yellville man's wife. She allegedly asked the man to help her locate a jewelry box Rowe was threatening to throw in a pond.
He said the two were in the basement searching for the box when Rowe arrived and placed a gun in their faces, threatening to kill both of them and firing a shot at the floor.
Rowe told officers his wife was upset because he had taken her phone. In addition, he said his wife and the man in the red shirt were planning to rob him, and he wasn't going to let that happen.
Rowe allegedly acknowledged having pointed the gun at the other male and had placed a pistol in the closet and a 12 gauge shotgun under the mattress when he heard the deputies arrive.
The shotgun was found with two live rounds of buckshot in the chamber, while the revolver was loaded with five live cartridges and one spent casing.
Rowe has been charged with felony counts of aggravated assault on a family or household member and aggravated assault.
In the earlier open case, he faces a felony count of possession of a firearm by certain persons, meaning he is a convicted felon, and a misdemeanor count of drug paraphernalia.
The charges follow Rowe being found sleeping inside his vehicle in the parking lot of a convenience store on the morning of Oct. 3.
While denying he was armed, when exiting his vehicle at the direction of law enforcement, a semi automatic pistol in a holster was observed on his hip.
WebReadyTM Powered by WireReady® NSI