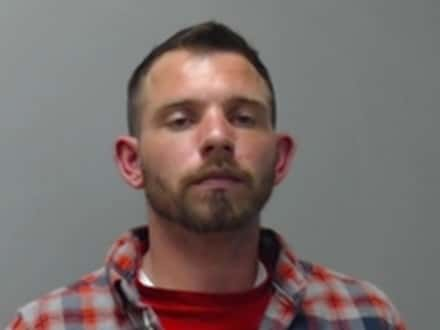 Photo: Jason Carl Proffitt
A man with charges filed against him in both Baxter and Marion counties has been declared a fugitive.
Thirty-one-year-old Jason Carl Proffitt is reported to have cut off an ankle monitor he had been ordered to wear.
In the initial Marion County case — filed in October 2015 — Proffitt was convicted of unlawful discharge of a firearm from a vehicle and aggravated assault. He had first been charged with criminal attempt to commit first-degree murder.
On June 23, 2016, Proffitt was given 15 years probation in the original case. He was reported to have fired several rounds at a pickup truck driven by another male in late 2015. The attack was reported to have stemmed from an argument over prescription pain medication. According to the probable cause affidavit, Proffitt had allegedly attempted to purchase Oxycodone from the victim at one time, but the arrangement had apparently gone sour. The victim was reported to have a legitimate prescription for the medication.
The second Marion County case against Proffitt was filed in early June 2019 charging him with being a felon in possession of a firearm and endangering the welfare of a minor.
Proffitt was accused of showing a pistol to his then pre-teen daughter and giving her a lesson in how to use it. In the probable cause affidavit, Proffitt was reported to have left the gun in a dresser drawer in the girl's room.
On Nov. 13, 2019, Proffitt pled no contest to the new charges against him in Marion County Circuit Court, as well as admitting he had violated the terms and conditions of his probation handed down in the first case. He was to be sentenced Jan. 15. The defense asked for a continuance to allow more time to have a pre-sentencing report completed.
The matter was discussed with the court on Jan. 14. Meanwhile, on that same day in Mountain Home, Proffitt was stopped by an Arkansas State Police Trooper for having a license plate on his pickup truck belonging to a different vehicle.
Because he was on probation, Proffitt had signed a waiver permitting warrantless searches. The trooper found marijuana, methamphetamine, hypodermic needles, a methadone pill, marijuana pipe and a digital scale in a small bag in the center console of the vehicle.
Proffitt was in Baxter County Circuit Court Jan. 23 and entered a not guilty plea to his newly filed drug charges in this county. At the time he was out on bond awaiting sentencing in the Marion County cases.
The new charge in Baxter County caused the proverbial dominoes to fall. A petition was filed to revoke Proffitt's bond in Marion County, and he was ordered to report to the Marion County jail at 9 a.m., Jan. 25.
But, he made matters worse for himself and even more complicated, when he didn't show up and a warrant was issued for his arrest. Records do not indicate if he has been apprehended.
He was scheduled to reappear in Baxter County Circuit Court Thursday but was a no-show, and a failure to appear warrant was issued.
WebReadyTM Powered by WireReady® NSI