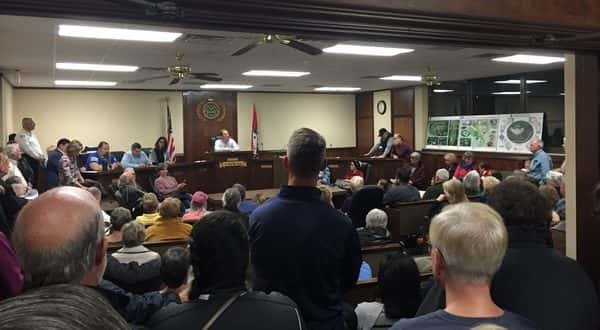 A standing-room-only crowd filled the council chambers of Mountain Home city hall Tuesday evening to discuss the pros and cons of a proposed aquatics and community center for McCabe Park.
Members of the city council and Mayor Hillrey Adams spent over two-and-a-half hours hearing public comments from a crowd that varied from senior citizens to children who accompanied their parents.Among those opposing the plan, questions included why a sales tax would be utilized instead of a property tax; why the county was not involved in the project; and what the true cost of the facility would be.Mayor Adams says he feels the meeting provided some eye-opening information.

Listen:


Some attendees questioned the scope of the plan and why it would not be built in phases. A representative of the engineering firm says the importance of building the facility at once eliminates cost concerns and engineering issues. If constructed in phases, the buildings and features would not connect according to the design and would push costs higher.
For Adams, building the facility at one time will provide a wider benefit to citizens of Mountain Home.

Listen:


The majority of the crowd appeared to be in favor of the complex. Among the details discussed by several health professionals who attended the meeting were the benefits of exercise. In addition to the indoor and therapy pools, a fitness area would be included.
One concerned mother expressed her concern over a lack of facilities in Mountain Home serving all citizens. Currently, the city has a youth center and senior center at Cooper Park, but no area serving all citizens in between, or allowing interaction with seniors and children.
That point hit home with Adams, who says those issues are addressed in the proposal.

Listen:


One speaker at the hearing felt she needed more information before she could make an informed decision on the proposal. The small business owner said all her clients had talked about for the last week was the project, but many felt that did not know enough about the details.
More public meetings will be announced according to Adams to provide further information on the proposal, as it is adjusted to address feedback.

Listen:


Adams on the next steps for the proposal.

Listen:


A group of community leaders traveled to both Heber Springs and Batesville on Wednesday to view similar recently completed projects. The fact-finding mission is intended to give the public a glimpse into the projects, including how the facilities operate and the impact they have on their communities.
WebReadyTM Powered by WireReady® NSI