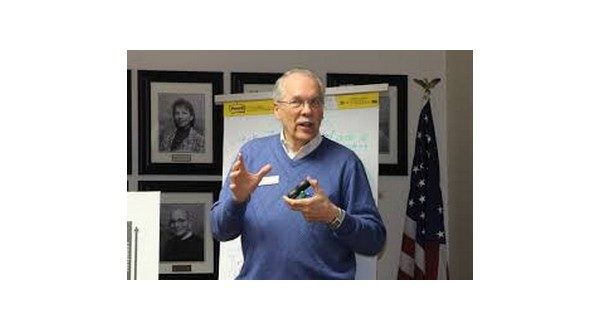 Photo: Mark Peterson
The University of Arkansas System professor who helped the Mountain Home community launch its Baxter County Forward Blueprint and Action Plan in 2019 is retiring.
A spokesperson says the realm of community and economic development will feel a little different in Arkansas come Tuesday. After more than 30 years serving rural communities across Arkansas, the nation, and the world, Dr. Mark Peterson will retire from the University of Arkansas (UofA) Cooperative Extension Service.
Late last year, Peterson was recognized nationally by the U.S. Department of Agriculture's (USDA) National Institute of Food and Agriculture (NIFA), Cooperative Extension, and the Association of Public and Land-grant Universities (APLU) for the Southern Region award for visionary leadership.
The U of A spokesperson says to say one of Peterson's greatest passions is helping communities take control of their future is an understatement. Through a combination of experience, intellect, and humility, Peterson inspires communities to come together to think strategically in times of rapid change.
Often, these partnerships result in full blown strategic action plans–roadmaps that guide communities on their quest to improve quality of life, attract new residents, bolster the workforce, and strengthen marketing and branding. All of his work is tied up in the notion of empowerment; the idea that every community can reach their highest potential and achieve their goals when provided the right tools and opportunity to collaborate.
This work has been accomplished primarily through Breakthrough Solutions. With 21 partner organizations, Dr. Peterson and Breakthrough Solutions have engaged more than 10,000 citizens on projects with a value exceeding $83 million. Six strategic community brands and several state and national awards are just a few ways in which Breakthrough Solutions shines as a premier community and economic development program in the state.
Baxter County Forward was developed through the Breakthrough Solutions program.
The Baxter County Forward Blueprint is an economic development plan several months in the making. It is a collaborative effort between Baxter County community leaders and the Economic Development Department at the U of A's System Division of Agriculture.
"None of the work accomplished through Breakthrough Solutions would be possible without the active involvement and commitment of Breakthrough Solutions partners, our funding sponsors, Extension colleagues at the state and county level, and community leaders at the local level," Peterson says. "I have been blessed to work in such a supportive environment and appreciate everyone's willingness to work together to create vibrant communities and regions in Arkansas."
WebReadyTM Powered by WireReady® NSI