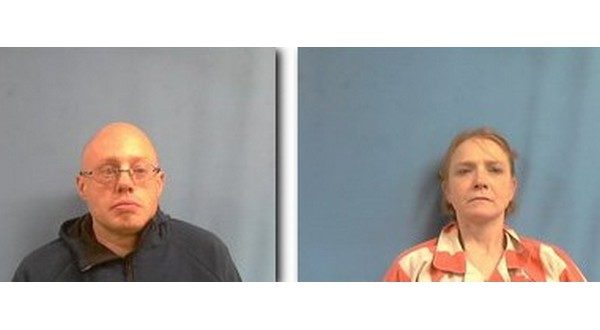 Photos: Adam Webb and Chastity Tarvin
A man with a lengthy criminal record, including convictions in Baxter and Marion counties, and a woman from Cotter are facing charges in connection with the alleged theft of items from the Mountain View Walmart. They also face felony drug-related charges.
According to the probable cause affidavits, law enforcement responded to a shoplifting incident at the retailer on Feb. 24.
Officers located 36-year-old Adam Webb of Mabelvale in a vehicle in the store's parking lot, questioned him about unpaid merchandise and escorted him to an office in the store.
Inside the office they found a detained 37-year-old Chastity Tarvin of Cotter.
An employee of the store alleged Webb had removed the theft device from a drone, unboxed it and placed it inside his jacket. Video was provided to support the allegation.
Tarvin had been detained for reportedly acting as Webb's lookout.
Employees had attempted to detain Webb, but he allegedly fled, jumped into his vehicle and moved it to another space in the lot waiting on Tarvin to return.
An investigator reportedly located the stolen drone in the jacket inside Webb's vehicle. Also located were three speakers reportedly stolen in earlier incidents. The pair allegedly made five visits to the store between Feb. 11 and Feb. 24, removed anti-theft devices and exited without paying for the items.
During the search of the vehicle, drugs and drug paraphernalia were also located. The drug field tested positive for methamphetamine.
A check with the state and national crime information center databases indicate Webb was convicted of felony breaking or entering and battery in Baxter County and felony drug-related offenses in Marion County. He also has felony convictions in Washington County and with the Fayetteville and Conway police departments.
In the latest incident, Webb and Tarvin have been charged with felony counts of possession of a controlled substance, methamphetamine; and possession of drug paraphernalia. They also face five misdemeanor counts of unlawful removal of theft detection devices and five counts of theft of property. Tavin also faces an accomplice liability charge, with Webb charged as a habitual offender.
Webb's bond was set at $10,000, while Tarvin's was set at $5,000.
WebReadyTM Powered by WireReady® NSI