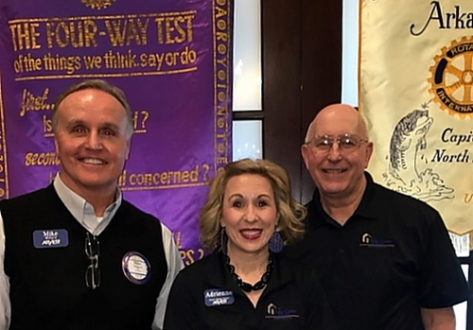 Photo: (from left) Rotarian Mike Willard and Fuller House representatives Adrienne Blackwell and Roger Gilley
Guest speakers at the Mountain Home Rotary Club earlier this month were Adrienne Blackwell and Roger Gilley, who discussed the Fuller Center for Housing in our area.
Rotarian of the Day, Mike Willard, presented the program about the non-profit Christian organization that builds and repairs low-income housing across the U.S. Founded in 2005 by Millard Fuller, the group's headquarters are in Americus, Georgia, and it serves 60 major cities and 16 foreign countries.
Fuller and his wife were also the original founders of Habitat for Humanity. Fuller Center for Housing is a faith-driven, Christ-centered enterprise promoting collaborative partnerships with individuals and organizations to provide shelter for people in need.
Representing the Past Presidents Council, Mark Hopper introduced Glen Demick as the "Rotarian of the Month" (February) and thanked him for all the many projects he volunteers to do with the club.