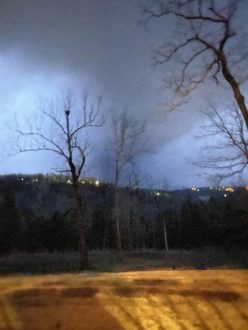 A KTLO, Classic Hits and The Boot listener captured images of a tornado reported by weather spotters in the Gamaliel area.
The pictures were taken from the Teal Point area on Lake Norfork by Dr. Mark Hammonds, who was facing to the northeast. The National Weather Service (NWS) reported a confirmed tornado was located over Gamaliel Landing at 7:55 p.m.
A tornado warning was first issued at 7:49 p.m., when the tornado was sighted near Fawn Park, also known as the Kingswood Estates area, on State Highway 201 North, just before the Pigeon Creek Bridge.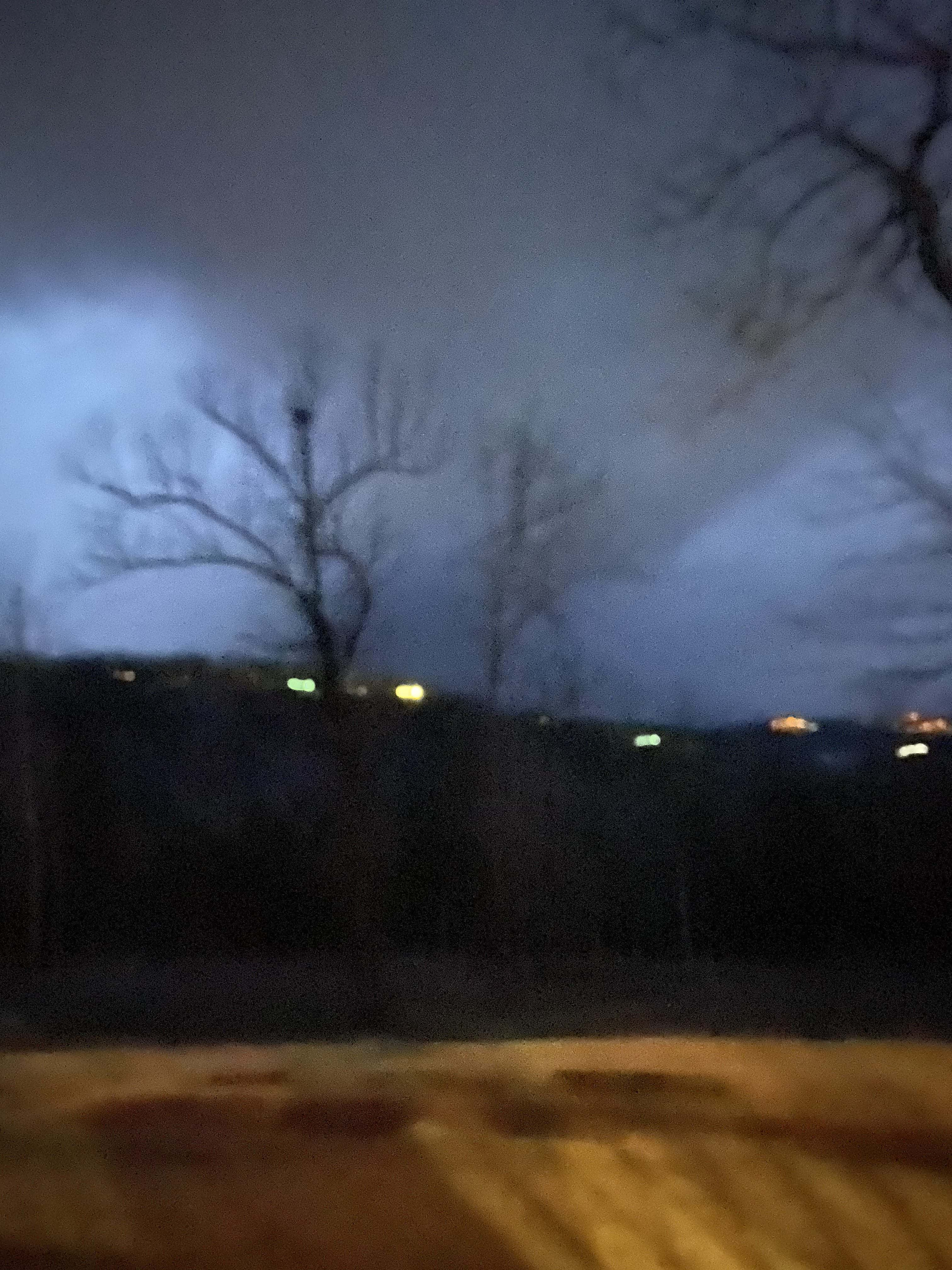 The storm was detected by radar at 6:08 p.m. when the NWS announced a severe thunderstorm capable of producing a tornado was located near the Upper Buffalo Wilderness Area, 17 miles southwest of Hunstville.
The track continued to Erbie, near Jasper, on a northeastern track, where the tornado was spotted by trained spotter/stormchaser Brett Adair, who photographed the tornado near U.S. Highway 65 in Western Grove. Emergency management reported a house being hit and power lines downed.
Damage reports followed at Eros, Everton and Pyatt, including damage to the Bruno-Pyatt schools. Power was reported out along U.S. Highway 62/412 with damage at Pyatt. Citizen reports of damage were reported near Cotter and Whiteville, with trees downed, a pig house and outbuilding destroyed. On Wildcat Shoals Road, a listener reported some roof damage and a tree uprooted.
Marion County Judge John Massey's Administrative Assistant Sandra Holt says there are downed power lines across the roads, and it's unknown if they are live wires.  County residents are being asked not to go outdoors if not necessary, and do not be curious and go looking around.  Marion County road crews have also been called out and will be working into the night.
Damage was reported on West Road with three "giant" trees downed, with reports to KTLO, Classic Hits and The Boot alerting the public to trees down near Cannie Baker Road.
A local listener stated a couple houses on West Road had trees fall on them. Pipe fencing at Freedom Ranch was torn, and several county roads are blocked including County Road 720. The listener says several dozers out trying to clear the roads, and one resident is stuck due to damages to her home.