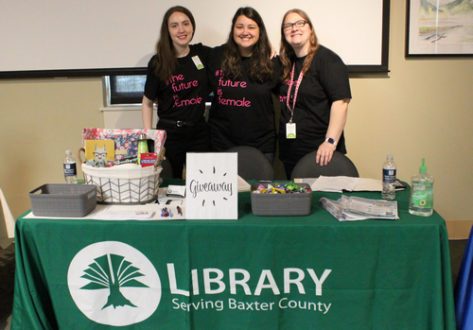 Library staff hosted career table and met young ladies from area high schools
The Baxter County Library took part in the 12th annual Teen Girls Go to College event held at the Vada Sheid Community Development Center on the campus of Arkansas State University-Mountain Home on March 12. Teen Girls Go to College is a program organized by The Schliemann Center for Women's Health Education and ASU-Mountain Home.
This event provides an opportunity for young women from area high schools to ask industry professionals about their careers and education post-high school.
Adult Programs Coordinator Mariah Hansen, Youth Services Librarian Amy Johnson and Marketing Coordinator and Graphic Designer Alison Henriksen attended to share their knowledge and experience in their respective fields.
A lucky 10th-grade student from Norfork High School won a giveaway for a gift basket full of charming and functional study materials provided by the library.