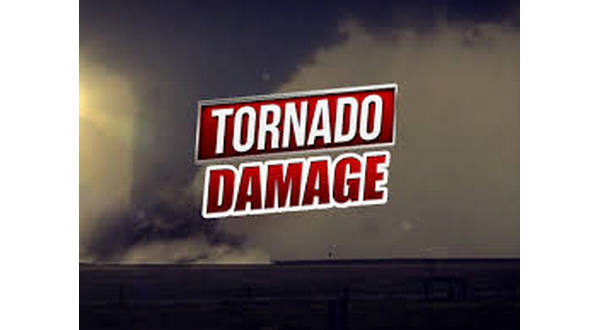 Thursday night's local storm activity produced two tornadoes confirmed Friday by the National Weather Service. An EF2 tornado ripped through 12 1/2 miles of Marion and Boone counties, and an EF1 tornado later touched down for a path of over 2 miles in Baxter County.
The first tornado, with an estimated peak wind of 120 miles-per-hour, began 2 miles southwest of Everton in Boone County at 6:50. Power poles were broken along Arkansas Highway 206 near Marshall Creek Road, and damage was reported to a residence. The tornado uprooted and snapped trees throughout southeastern Boone County. As it moved through the southeastern portion of Everton, the roof of a residence was torn off, and several trees were snapped at mid-trunk level.
More trees were uprooted as the tornado tracked into Marion County. A hay barn was destroyed near the intersection of Marion County Roads 4019 and 4023, several large trees were uprooted, and a porch was ripped off of a residence. Several other trees and power poles were downed and snapped.
The tornado uprooted and snapped more power poles and trees, caused extensive damage to a residence and destroyed an outbuilding before it crossed Meadowcrest Lane and County Road 4019. It later crossed Arkansas Highway 125 near Eros and caused damage to the Ozark Mountain School District's Bruno-Pyatt campus. A residence east of Eros then sustained severe damage, and its garage was destroyed.
One individual sustained minor injuries near the intersection of County Roads 4018 and 4010, and several houses were severely damaged. The unidentified individual was reportedly transported to North Arkansas Regional Medical Center in Harrison but is in good condition.
The tornado came to an end 3 miles west-southwest of Yellville at 7:11. Several large trees were uprooted, power poles were broken, and a residence sustained roof damage.
The second tornado started at 7:30 in Baxter County, lasted five minutes and reached an estimated peak wind of 100 miles-per-hour. It started 3 miles north-northeast of Gassville, uprooted or snapped large trees and damaged outbuildings. One large tree was uprooted and fell through the bedroom of a residence. A large portion of a roof was torn off another house and blown into nearby trees before the tornado came to an end 3 miles west of Mountain Home.
WebReadyTM Powered by WireReady® NSI