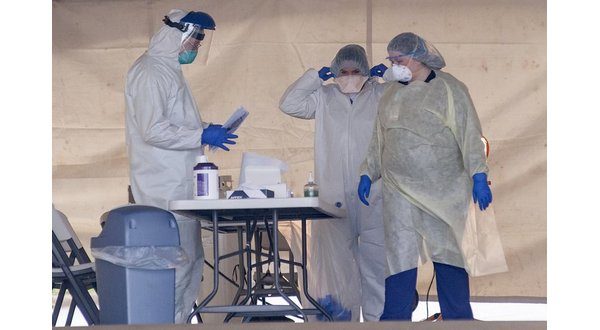 Photo: Healthcare professionals wear personal protective equipment as they prepare to test patients for flu, strep throat, and coronavirus from their parked cars on Tuesday at the St. Bernards Urgent Care Clinic on Red Wolf Boulevard in Jonesboro. (Quentin Winstine/The Jonesboro Sun via AP)
LITTLE ROCK, Ark. (AP) – Arkansas Gov. Asa Hutchinson said Wednesday the state will ban some large indoor social gatherings to address a growing number of coronavirus cases in the state.
Hutchinson said the state Health Department will soon issue a directive prohibiting indoor social gatherings of at least 10 people. The governor said health officials were still working on the language of the order.
The number of people in Arkansas with COVID-19, the illness caused by the coronavirus, grew to least 280 Wednesday from 232 a day earlier.
For most people, the new coronavirus causes mild or moderate symptoms, such as fever and cough, that clear up in two to three weeks. For some, especially older adults and people with existing health problems, it can cause a more severe illness, including pneumonia and death.
Also Wednesday, Little Rock Mayor Frank Scott said the city will expand its nightly coronavirus curfew to 9 p.m. until 5 a.m. The city had been enforcing a midnight- to-5 a.m. curfew.
Hutchinson also issued a proclamation for a special session beginning Thursday to address a $353 million shortfall he said the state faces because of the pandemic. Lawmakers will consider a proposal to move the state's $173 million surplus into a "COVID-19 Rainy Day Fund" the Republican governor could use with approval of legislative leaders.
The 100-member House will meet at a basketball arena at the University of Arkansas at Little Rock for the session instead of the Capitol because of concerns about COVID-19, Speaker Matthew Shepherd said. The 35-member Senate plans to meet at the Capitol, but with restrictions on the number of senators allowed in the chamber. The House and Senate will also take up temporary rules allowing their members to vote by proxy.
Leaders of the majority-Republican Legislature said they believed the rainy day fund proposal had strong support, and hoped to wrap up the session shortly after 12 a.m. Saturday. Shepherd said 37 House members have signed on as co-sponsors to the legislation, while Senate President Jim Hendren said 21 in his chamber have.
WebReadyTM Powered by WireReady®NSI