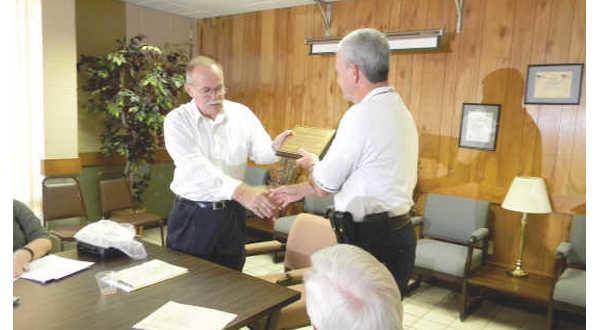 Photo: Gary Clayton (left) in this Areawide News file photo
For the second time this year the Fulton County Quorum Court has been faced with appointing a new county judge.
Meeting in a special session Friday morning, after declaring a vacancy in the position, the justices selected former Salem Mayor Gary Clayton as the county's new judge.
The action comes after Judge Jim Bicker announced his intentions to step down from the position this month.
Bicker was appointed county judge on Jan. 31 for the second time in seven years. His appointment followed former judge Jim Kendrick leaving office after being convicted on a felony theft of property charge. Kendrick served just over one year in the position before his conviction and being declared ineligible to serve.
Bicker reportedly cited personal reasons for stepping down.
Areawide Media reports in 2014 Clayton opted not to seek reelection as Salem's mayor, after leading the city for more than 35 years.
Except for sitting out one term, Clayton had been at the helm of Salem city government for 35 of the last 39 years, prior to stepping down at the end of 2014.
Since the office of mayor is a part-time position, Clayton worked in the local newspaper industry managing and owning the Salem Headlight, the Sharp County Record and Areawide Media newspapers and publications until 1990 and was employed for many years as Fulton County's probation and parole officer.
WebReadyTM Powered by WireReady® NSI