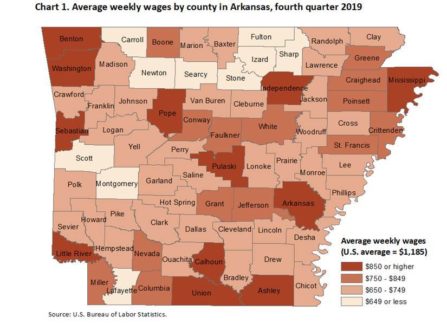 The United States Bureau of Labor Statistics released information Tuesday examining 2019's fourth-quarter wages in Arkansas, revealing a challenging earnings environment in much of North Central Arkansas even before the impact of the COVID-19 pandemic.The report reflects five of the worst counties in the state for earnings are located in North Central Arkansas.
The data find no Arkansas county reached the national weekly average wage of $1,185, with Searcy County occupying the bottom slot at just $546. Things aren't much better in Newton County, where the average weekly wage is $571.
The average weekly wage in Izard County is at $642, Fulton County is $639 and Stone County is $627. All the counties are in the bottom 10 of the state's 75 counties.
Baxter and Marion counties are on the next rung of the ladder, members of a group of 39 counties where average wages range from $650 to $749. Boone County, at $783, is in the second tier of counties in the state.
The report finds that three counties (Pulaski, Washington and Benton) make up 39.8% of Arkansas employment level. They are defined as large counties, which are those with employment levels of 75,000 or more. Benton County's 3% rate of job growth ranked 20th in the country, while Washington County was 86th in the nation at 1.8%. Pulaski County dropped .5% over the year to rank 314th.
Benton County has 4% wage growth, while both Pulaski and Washington counties had 3% growth.
The report summarizes Arkansas as: "Higher-paying counties were generally located around the metropolitan areas of Blytheville, Fayetteville, Fort Smith, Little Rock, Texarkana and along the southern border of the state. The lowest-paying counties were primarily concentrated along or near the northern border of the state."
AR_QCEW_1904 by KTLO News on Scribd
WebReadyTM Powered by WireReady®NSI