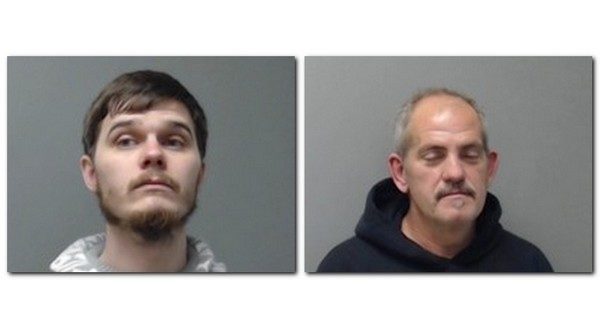 Photos: (from left) Cody Sallee and Thomas Wheeler
A pair of inmates in the Baxter County Detention Center had drug charges added to their resume, after one allegedly injected a syringe into the neck of the other last weekend. Twenty-six-year-old Cody Sallee of Cotter and 53-year-old Thomas Wheeler of Mountain Home were charged with felony counts of possession of drug paraphernalia and furnishing prohibited articles.
According to the incident report, Baxter County Chief Deputy Captain Jeff Lewis was reportedly reviewing camera footage June 21 of the detention center from the previous night. Captain Lewis says he observed Sallee insert a syringe into Wheeler's neck. Jailers moved all inmates from the pod to the multi-use room but were unable to locate any contraband during a search.
The inmates were relocated to the recreation yard. The jailers conducted a shakedown of the pod and reportedly located a syringe in an empty seasoning container near Sallee's bunk.
Sallee has been in the detention center since March 6 for terroristic threatening and on a revocation bench warrant. His bond is set at $32,500.
Wheeler was booked Feb. 13 on multiple drug possession charges, and he also had a revocation bench warrant and a hold for other agencies. His bond is $10,000.
WebReadyTM Powered by WireReady® NSI