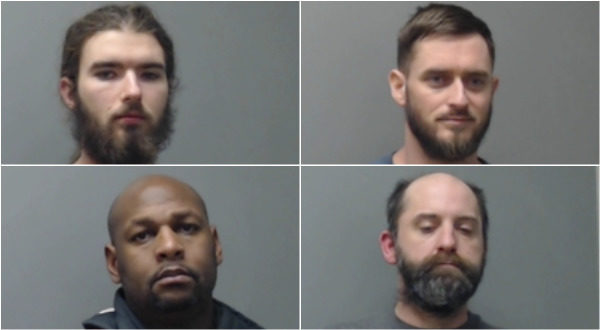 Photos: Christian Nozar (top left), Joshua Dunn (top right), Rodney Malloy (bottom left) and Travis Armistead (bottom right)
Three of the four men who made their own hooks and went "fishing" while in jail appeared in Baxter County Circuit Court Thursday.
Each of the men entered a not guilty plea to new felony and misdemeanor charges stemming from the fishing trip.
The fourth man, 40-year-old Rodney Malloy, is an inmate in the Barbara Ester Unit of the state prison system at Pine Bluff on a parole violation.
The inmates ended up with a catch of two pocketknives and several new charges.
According to the probable cause affidavit, 23-year-old Christian Nozar, 33-year-old Joshua Dunn, 37-year-old Travis Armistead and Malloy were all in the visitation area of the Baxter County Detention Center on April 28 to use law books that are made available to prisoners.
The area is adjacent to the booking area and separated by a wall with a piece of glass in which there is a hole large enough for someone to get an arm through.
The inmates used hooks fashioned out of wire and line made from pieces of trash bags to attempt to hook another inmate's property bag which had not been put in a storage bin.
They were successful in hooking the bag when no member of the jail staff was present and pulled it to the window where they went through it and allegedly took the knives.
When the knives were discovered missing, surveillance video was reviewed showing the men using their improvised fishing gear to hook the bag.
One of the knives was found in Armistead's sleeping mat and one in an empty deodorant applicator. Jailers also recovered wire that had been shaped into "fish hooks" and line made of trash bag pieces.
The attempt netted each of the inmates additional felony charges of furnishing, possessing or using prohibited articles, impairing the operation of a vital public facility and misdemeanor counts of theft of property and carrying a weapon.
WebReadyTM Powered by WireReady®NSI