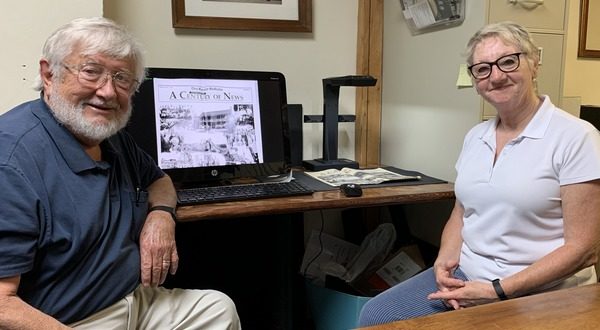 Photo: David Benedict and Gwen Khayat
The Baxter County Historical and Genealogical Society has received a Giving Tree Grant from the Twin Lakes Community Foundation. The society used the funds to purchase a high-speed, high-definition book scanner.
The scanner creates digital files to be cataloged and indexed. The files become part of the archives at the Baxter County Heritage Center on South Baker Street in Mountain Home, and some scanned items may be included for public viewing at baxtercountyhistory.org.
Baxter County Historical Society President David Benedict recently invited society member and Twin Lakes Community Foundation Director Gwen Khayat to see the new scanner at the Heritage Center. Benedict explained the device is capable of creating a scan of a single page or a double-page spread in a bound book in 1 1/2 seconds. The scanner also uses laser-beam technology and algorithms to flatten the curvature of bound books in the scanned image. Book images can be exported as searchable computer files to locate names or topics in the material.
WebReadyTM Powered by WireReady® NSI