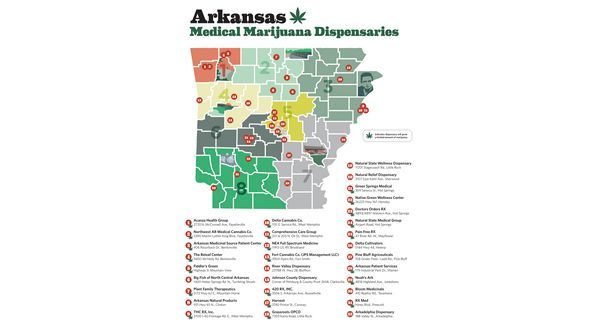 Map: Courtesy Arkansas Times
Medical marijuana patients in North Central Arkansas should have a third dispensary option within a short driving distance in the near future. The Arkansas Medical Marijuana Commission has given its approval to four additional dispensaries, including Green Cross Cannabis for a facility to be located in Fulton County.
Patients in North Central Arkansas are now served by Plant Family Therapeutics in Mountain Home and Fiddler's Green in Mountain View.
Green Cross Cannabis dispensary will be located in Zone 2, which serves Baxter, Fulton, Izard, Marion, Newton, Searcy, Stone, Van Buren and Cleburne counties. The commission carved out eight zones across the state earlier in the bidding process.
The Arkansas Democrat Gazette reports the commissioners awarded the additional licenses for areas where they said there is a current need based on the number of patients and driving distances.
Arkansas had three cultivation facilities and 22 dispensaries in operation as of June 30.
The two dispensaries now serving North Central Arkansas, according to the latest information available from the Department of Finance and Administration, have sold more than a combined 1,500 pounds of medical marijuana. The medical marijuana sales report issued in late June indicates since Fiddler's Green in Mountain View opened July 11, 2019, the company has sold 1,033 pounds of medical marijuana.
In Mountain Home, since Plant Family Therapeutics opened on Feb. 3, the company has sold 504 pounds of medical marijuana.
According to the Arkansas Department of Finance and Administration, Arkansans have spent more than $100 million on nearly 16,000 pounds of medical marijuana since the first dispensary opened in May 2019.
A June 2020 Talk Business & Politics-Hendrix College Poll found that 67.5% of Arkansans support medical marijuana compared to 20.5% who oppose. That level of support far exceeds the 53% of voters who approved the measure in November 2016.
Among voters in the survey who support medical marijuana, 23.5% approved of increasing the number of cultivators and dispensaries, 19% approved legalizing recreational marijuana, and 46.5% approved of both.
As of Friday, the Arkansas Department of Health's website indicates 66,594 Arkansans have been approved for a medical marijuana ID card.
Together the state's medical marijuana patients are spending an average of $520,000 a day on the drug, according to the Department of Finance and Administration.
WebReadyTM Powered by WireReady® NSI