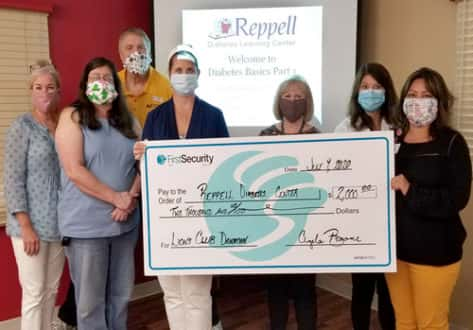 Mountain Home Lions Club President Angela Broome, along with Lions Beverly Sandvos, Mia Schwierzke, Gary Stricklin, Cindy Costa and Stefany Isham, presented the Reppell Diabetes Learning Center with a $2,000 donation for 2020.
Jodi Bodenhamer, RN, CDE, the coordinator for the Reppell Diabetes Learning Center expressed her sincere thanks to the MH Lions Club for this donation. She was very grateful for this gift.
The diabetes program covers various topics that, together, provide the tools necessary to manage diabetes including self-care skills, nutrition, exercise and medications.
About Lions Club International
Lions Clubs International is an international non-political service organization established originally in 1916 in Chicago by Melvin Jones. It is headquartered in Oak Brook, Illinois. As of April 2015, it had over 46,000 local clubs and more than 1.7 million members in 190 countries around the world. The Mountain Home Lions Club meets every Wednesday at noon at El Chico. Visit www.MountainHomeLions.org for membership information.