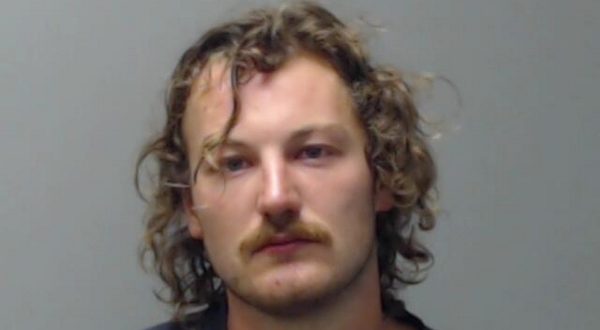 Photo: Austin Douglas Potts
A Baxter County sheriff's deputy was sent to Baxter Regional Medical Center after he was struck by a fleeing motorcyclist during a pursuit early Sunday morning.
Austin Douglas Potts faces a litany of charges, including four felonies. The 23-year-old Oakland man is being held on felony charges of second-degree battery, aggravated assault, fleeing by a vehicle and a probation violation. He also faces misdemeanor charges of reckless driving, resisting arrest, violation of a restricted license and no tail lamp.
According to Sheriff John Montgomery, the incident began Sunday morning at 12:25 when Deputy Craig Kocka observed a motorcycle pulling out of a closed access road in the Pigeon Creek area. After turning around on State Highway 201, Kocka noted the bike's tail light was out and initiated a traffic stop.
That's when the cyclist, later identified as Potts, began to flee, with the pursuit reaching 65 miles per hour before the motorcycle turned on Baxter County Road 28. Corporal Craig Gates placed a road block at the road's intersection with Jade Lane, and Potts stopped momentarily. He allegedly refused commands to exit the motorcycle and began trying to maneuver around the officer.
Deputy Kocka utilized his TASER on Potts at that point, with no effect. As Potts fled, Montgomery says the bike struck Corporal Gates in a "lower extremity," knocking him to the ground.
The pursuit resumed with another deputy observing the bike on U.S. Highway 62B in the city of Mountain Home, with Mountain Home Police Department officers joining the chase, until the cyclist entered a subdivision near Baxter Regional Medical Center.
Montgomery says a short time later, a man matching the description of the motorcycle operator, was located on foot near the hospital parking garage. The man was detained, then provided a false name and identification to authorities. Officers located TASER probes still attached to the clothing the man was wearing. The motorcycle was later located near a utility trailer in the parking garage.
Authorities later received confirmation of the man's identity from a third party and learned Potts was driving on a restricted license that requires an interlock device and is on probation with the Department of Arkansas Community Corrections.
Montgomery adds Corporal Gates was treated for his injuries and released from the hospital.
Potts remains jailed on a no-bond hold for the probation violation. Montgomery says he will appear in court on Sept. 17.
Previously arrested in Oklahoma

Potts faced serious charges in Oklahoma last year.
He is alleged to have become angry with two members of a college fishing team for being too close to a marina.
As a result of the Aug. 27 confrontation, Potts was charged with assault and battery with a dangerous weapon, and boating violations, including not have current registration and failure to have required equipment.
He was not immediately taken into custody. He was arrested in Marion County Nov. 7, 2019 for drunk driving and, according to court records, extradited to Oklahoma.
At the time of the incident, Potts was described as a contractor who was installing a new roof on the Sunset Cove Marina on Lake Cobb in Oklahoma.
The two teenage fishermen, who were on the lake for a practice session, took videos of Potts and an unidentified male in an aluminum jon boat repeatedly ramming their fiberglass bass boat.
The ramming resulted in a crack in the hull of the bass boat and damage to both the outboard and trolling motors.
The video was played on several Oklahoma television stations and went viral on the web. The story was also picked up by a large number of fishing publications.
One website devoted to bass fishing called it the "craziest fishing confrontation we've ever seen."
Potts was identified as the person driving the boat, as it repeatedly rammed into the one occupied by the teens.
A member of a Texas fishing group said "it's ironic that, given the boating violations, he was not even legal to be on the lake when he committed this crime."
Prior to taking to the water, Potts was reported to have thrown nails and screws at the two young men, cursed and pulled down his pants.
The confrontation was reported to have flared up over how far the two college freshmen were to the marina.
They said they were obeying a sign that said there was to be no fishing within 150 feet from the dock.
Potts allegedly admitted to investigators he had hit the teens' boat. He said they had been disrespectful to the workers on the roof.
In investigative and court records, no details are given to explain why Potts would have taken such umbrage over the matter. He apparently had no connection to the marina, except the roofing work.
The marina owner quickly put out a statement confirming that fact.
Potts was placed on probation for five years. He was to be supervised until all fines, fees, court costs and restitution were paid.
According to court records, he would then remain on unsupervised probation for whatever remained of the 60-month sentence.
When booked into the jail on his latest charge, he is shown to have a probation violation that could result from the Oklahoma case.
WebReadyTM Powered by WireReady® NSI