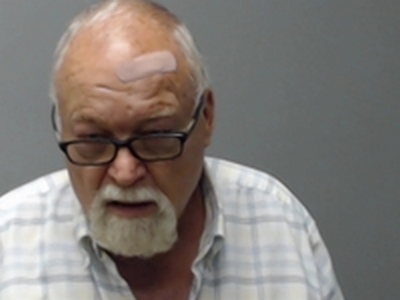 Photo: Alvin Ray Wyckoff
 
A Baxter County man has been arrested after he allegedly threatened a couple doing yard work at their home, pulled a pistol from his holster and threatened to shoot the male victim.
Baxter County Sheriff John Montgomery says 79-year-old Alvin Ray Wyckoff of the Hand Cove Area surrendered himself Thursday at the Baxter County Detention Center. A warrant had been issued for his arrest following an investigation into the incident occurring on Aug. 31.
Sheriff Montgomery says deputies were dispatched to 28 Cedar Court on an assault complaint. The complainants said a truck stopped in the middle of the roadway next to their residence.
They asked the driver, later identified as Wyckoff, if they could help him. Wyckoff reportedly became belligerent and said to one of them, "Why don't you hit me. I have a gun. I'm here to shoot you." Other words were exchanged between them, as well.
The couple attempted to walk away in front of the truck, but Wyckoff pulled forward in an attempt to block their path. The couple then walked around the back of the truck, with Wyckoff exiting the vehicle and following them.
A second verbal confrontation occurred leading to a physical altercation. The couple said Wyckoff reached behind his right hip and pulled out a holstered pistol. He then drew the pistol from the holster and again told the male victim he was going to shoot him.
The male victim closed the distance to Wyckoff, who struck him in the mouth. The male victim then disarmed Wyckoff, and in so doing, the suspect was injured. Both men were treated at the scene by emergency medical personnel.
The man and his wife then walked away from Wyckoff and waited for law enforcement.
Wyckoff gave a different version of events. However, a review of video footage from the couple's home security system indicated the victims' version was accurate.
Sheriff's investigators applied for a warrant for Wyckoff's arrest.
He has been booked on two felony counts of aggravated assault and terroristic threatening, as well as single misdemeanor counts of third-degree battery and disorderly conduct.
Wyckoff was released after posting $15,000 bond and is set to appear before the circuit court later this month.
WebReadyTM Powered by WireReady®NSI