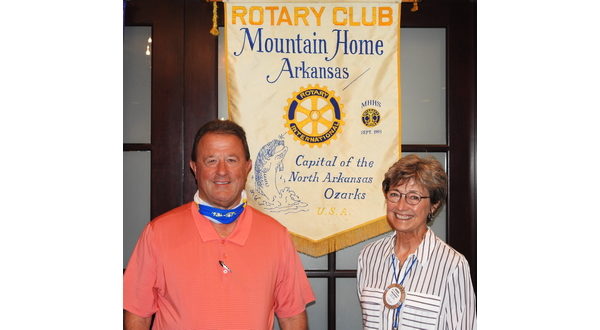 Photo: Mountain Home Mayor and Rotarian Hillrey Adams and MH Rotary President Renae Schocke. Photo: Courtesy Brenda Nelson, MH Rotary PR Chair
Mountain Home mayor and fellow Rotarian Hillrey Adams thanked his home club members for all they had done to make the new Baxter Summer Concert Series a success during a visit late last month.
Rotarians have coordinated vendors and worked throughout the evening in various capacities.
In speaking about the different facets of the city, Mayor Adams talked about the upswing in sales tax collections over this time last year; the public safety tax for the police and fire departments; planned street work; future water projects; and the proposed improvements at city parks, of which Rotary's Hickory Park is one.
Rotarians say it was a very informative and uplifting program as they heard about all the positive things being done in the local community.
WebReadyTM Powered by WireReady® NSI